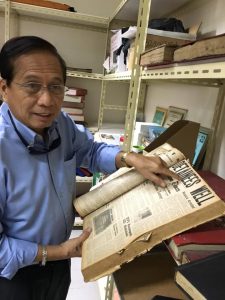 (Sometime in June, 2014, I attended a  "round-table chat"  ( except that  the tables were rectangular)  on culture and arts with some Davao editors which included event prime mover Editor-in-Chief Amy Cabusao Bandiola of the MINDANAO TIMES, Editor Tony Ajero of EDGE DAVAO, Editor Stella Estremera of SUNSTAR DAVAO, former Times editor Ed Fernandez and PPI executive director Ariel Sebellino. Resource persons from the arts and the academe were also present. )
KARL — During that forum, I met a childhood friend, a high school classmate from  many long years back. His name: Brother KARL GASPAR , CssR of the Redemptorist. He is a known anthropologist who has devoted his entire  life mostly in the service of  the underprivileged, the lumads, the victims of calamities, and the so-called "unfortunates."  We haven't seen each other for a long time.  I knew him as "CARLITO," his real name from way back in high school until our college days at ATENEO de Davao.
When we met in that forum, I  immediately told him in jest that being called "KARL"  was a Marxist name and that could be the reason why during martial law, he was arrested by the military. During those challenging times, he was an "activist" doing pro-poor work  in the rural communities.  When martial law was declared, he was secretly  arrested by the military.  His relatives and friends frantically searched for him until he was found in a military camp. In fact, those search efforts  eventually gave rise to an organization composed of civil society groups to help locate missing persons during martial law.
I was already a new lawyer then when he was found in a Davao military camp. Although I have not seen him personally then,  I recalled taking up his cause and  legally defended him.  At that time, I was  doing my "pro bono" (free) legal work for human rights victims as a FLAG (Free Legal Aid Group) lawyer under the guidance of then   Sen. Jose "Pepe" Diokno. Carlito was arrested on Palm Sunday and  released from detention on Easter Sunday — something that can also be a source of reflection for many.
DEAN OF SEMINARY —I learned from Journalist Gail Ilagan during that forum in 2014 that Karl, a PH.D. in Anthropology from UP Diliman in Quezon City just got appointed  as dean of the St. Alphonso's Theological Mission Institute, the seminary for Redemptorist Brothers. I remembered his religious inclinations even during high school and college days when we were together were evident. He was head of our Sodality Club at Ateneo and an "altar boy" like me. As an itinerant  (aspiring) Redemptorist missionary, he spent time in Arakan Valley in North Cotabato with the lumads, doing advocacy work on "development agression". His "street theatres" that he was good at, were platforms  of relevant social commentaries of current and contemporary issues of the day. He  has written books and publications, and somehow gets to publish one book every year.
I QUIT ATENEO —While recalling our days together during that event , I got a big surprise  when  Bro. Karl remembered me as that student who appeared  in  his  first year high school class in Digos  for the first time long after school opened. I almost forgot about that episode of my life. That prompted me to tell Karl the full story of how my parents, living in barrio Guihing in the south, dreamt that their 12-year old eldest son who just graduated from elementary, should go to the best high school thereabouts, the Jesuit-run Ateneo in the city.
I was a  "precocious pupil"  as I was only 5 years old when I enrolled. My mother Amparo was my Grade One teacher. At that time, there were no birth certificate requirements for enrollees. All one had to do was to reach for his ear with his hand OVER his head. Either my hand was long or that no one — except the teacher, my mother was looking when I reached for my ear NOT over my head as required. So there!
After graduating school valedictorian from barrio Guihing elementary school, although the family  could hardly afford it, my parents relied on a scholarship I earned after passing a qualifying test. They both dreamed of giving their eldest son the best education so they decided to send me to the ATENEO de Davao in a far-away place.  So off I went to the big city  weaned from family and friends  for the first time. It was a mistake.    After a few weeks, I literally quit  school and returned  home, unable to adjust to a strange place with non-familiar faces and car-riding classmates; where fountain pen was required in class — not the familiar ballpen or pencil I was used to; where a school uniform was  a daily "must" instead of ordinary t-shirt and  pants. When my mother visited me one weekend, I clung tightly to her belt refusing to let her go without taking me home with her. A few days later, my angry mother bodily dragged me to the Holy Cross in Digos ( ran by the Canadian Brothers of the Sacred Heart)  in the next town. She dreaded the thought that her son was a  school "dropout".  Luckily,  I was admitted by a stern school principal, Diosdado Ypil, as a late enrollee but only after he learned that my mother was also a teacher like him. There, I felt at home among my " co- provincianos" There Carlito a.k.a. Karl and I met for the first time .    That was where I felt I really belonged!  The rest is history.
PROUD DRIVERS  — Back to the round-table forum. After the meeting, Journalist  CAROL ARGUILLAS posted our picture together at FACEBOOK describing Karl and me as  "SONS OF BUS DRIVERS". Indeed,  my father Martin ("Nong Ating" to friends) was a passenger bus driver since I was young and so was KARL's  father. I learned  that when they would gather  at the bus  terminal area with the other drivers around,  they would proudly  talk about their sons and boast to their fellow  bus drivers how their sons were doing well in school. Yes, lowly but proud fathers indeed!
Karl was our high school valedictorian.  After graduation,  we both went to Ateneo (finally, I was back) for college. We both worked our way through college. I played the trumpet with the ATENEO school band with a 50% tuition scholarship.   Both  our  fathers continued being drivers down south.   He later became a Redemptorist brother and I went on to law school.
 "WHY STOP ME?" —  Years later, I was already Davao City congressman and my father  Martin was still a driver of   the company shuttle bus of the Davao sugar central company (DASUCECO)  located in  our barangay Guihing. During one of my hometown visits, I politely told him that it was time for him to rest and stop driving and we his  children (8 of us siblings)  could very well take care of his needs — including his steady supply of his favorite "Red Horse" beer (hoping this could convince him) .  His  quick reply, (in native Ilonggo) and in a loud voice was:  "My being driver made you what you are today, so why do you want me to stop driving,   now that you are a congressman?" (End of conversation).  I guess being with  his friends and neighbors boarding his shuttle bus everyday,  must be a source of unending joy for him.  He  retired  as driver later.  And yes, his regular but meager retirement pension maintained his  steady supply of "Red Horse" beer up to the end. He passed away at the age of 86. We, his 8 children reminisced more everytime  we visit his grave.
 UNENDING STORY —As for KARL, I know he will  be back in Yolanda's  Tacloban or elsewhere , where his apostolate  will bring him to tend to the poor and the unfortunate. His life's  mission  as new dean of a seminary will bring more milestones.
For  sure, the story of the  sons of those two (2)   bus drivers will  still be an unending  story to tell. Nope, not "the end" but still a continuing saga of those two drivers'  sons CARLITO and JESUS.