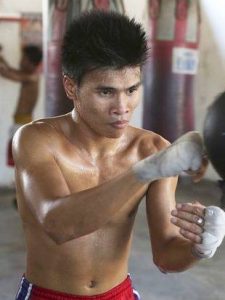 Orthodox fighter Rolly "Bomba" Sumalpong of Surigao del Sur will challenge reigning  World Boxing Association Asia Bantamweight   champion Jun Zhao of China on Nov. 15 at the Zhenhaibao Theatre in Yinchuan, China.
The 27-year old Sumalpong (11W-3L-2D, 11KO) recently won by a split decision on Yujie Zeng of China last Aug. 9, 2019 at TSSG Center in Qingdao, China.
However, he earlier lost to Yutthana Kaensa of Thailand by a unanimous decision for the vacant World Boxing Association Asia Super Flyweight title in Thailand in 2018.
Zhao (13W-2L-1D, 10KO), on the other hand, has never been beaten since 2017 with an 8-winning streak.
Zhao beat Zafar Parpiev of Russia via a split decision to win the IBF Silk Road Champions Tournament Bantamweight title in Macao.
He later scored a TKO in the 4th round against Vikash Dahiya of India to win vacant World Boxing Council Asian Boxing Council Silver Bantam Title  in ShangRao.
Zhao then successfully defended his title against Sonin Nihei of Japan via TKO in the 8th round last Sept. 21.
He recently defended it again against Jay Francis Buray of Iligan by a TKO in the 2nd round last Jan. 6.
Meanwhile, undefeated Longyi Hu (5W-0L, 2KO) of China will fight Sheng Peng (6W-6L-1D, 2KO) for the vacant World Boxing Organisation China National Fly title in the undercard.
The other bouts:
Super bantamweight Bo Hao Sun vs. Jun Liu; super middle Wefang Li vs, Yihao Wang; super fly Li Ping Shi vs. Yufei Wu; feather Da Xu vs. Wensong; super bantam Yangyang Wang vs. Haiyun Duan; cruises Zhaoxin Zhang vs. Zi Yue Lyu.
It is promoted by Xiaoping Zhang of Xiaoping Sports and matchmaker is Qiang Sun. PR