AS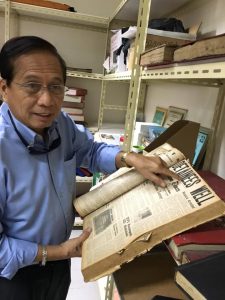 this year's  Christmas Day nears, Luzon and the Visayas islands have been badly battered relentlessly  by succeeding and seemingly unending typhoons.  Several died. Thousands have lost their homes, others are still in evacuation areas  reeling from the impact of stormy winds, floods, landslides, no electricity, no food, no clothes. And yes, as the sayin' goes "no nothing".
Earlier, there was "Ondoy".  Much later  "Rolly", then "Siony", "Tonyo" and the latest "Ulysses".  They are so named with the first letter in alphabetical order by  "PAGASA", our Philippine weather bureau as soon as they enter the Philippine Area of Responsibilty or PAR. Typhoons have international names but when they are spotted by PAGASA, they are given "Pinoy" names. So if another one after "ULYSSES" rears its ugly head, be sure it will be named starting with the letter "V". (Can I suggest "VANDAL" , not Pinoy-sounding but  it will surely again "vandalize" us Pinoys? No joke!! ).
 TYPHOON "TITANG" —I also can still recall now how Mindanao, specifically the Davao region was badly hit by a typhoon    about 50 years or so ago. That was unusual and rare. Typhoon "Titang" circa 1970 veered from its usual course and slammed the coastal towns of Davao del Sur including Davao City. I was a  reporter of the "Mindanao Times" then, just fresh from college.
 TYPHOON "SENDONG"— In December 2011 or about 9 years ago another storm called Typhoon "Sendong" again  ravaged northern Mindanao. Cagayan de Oro City, the hardest hit  area reeled  from the shock. That was to be another freak and wayward typhoon.
I  remember calling  up by phone our relatives in Cagayan De Oro City as I knew their house was built near the river. My uncle, the late Felimon Dureza was a retired  bus driver ( like my father Martin). My uncle was a driver of the Jesuit's Xavier University and I was told that the university helped  and gave the family   a piece of land  for free to build  their house in Barangay Carmen there. During Typhoon "Sendong's" onslaught their   house simply just disappeared with the rushing waters. Luckily, fate intervened. My  cousins  saved themselves, 10 of them including small children,  by climbing  a big mango tree that was just outside their  window.  The house was shattered and they clung  unto  the mango tree branches until they were rescued. I am sure countless other horror stories  started filtering out when the "smoke cleared".
TYPHOON-FREE — In fact, Mindanao boasts of its so-called "comparative advantage"  in agriculture because the island is  immune and usually free from typhoons. The worst  we  get are not-so-strong  winds, intermittent rains and cloudy skies during storm signals up north of the country
OUTSIDE "TYPHOON BELT" — Mindanao is traditionally outside the so-called "typhoon belt".  Although typhoons are "born" in the Pacific Ocean  east of Mindanao, they start their  westerly course northwards and always somehow avoid  us. (I guess typhoons are so afraid of us — the brave, resilient and fearless  Mindanaoans, no doubt! )
These last few days, we saw the fury of  "Ulysses"   leaving at its wake  homeless and suffering Pinoys. Perhaps,  we can spare a little bit of our blessings this coming christmas season for those suffering victims.
LET'S ALL REJOICE! Today's stark realities are staring us right on our faces in the midst of this pandemic. Christmas is no longer the same as before. The traditional x'mas carolings are no longer allowed. No big gatherings too. "Stay  home always" is today's  mantra. No actual gift giving.  The traditional "exchange gifts" can no longer be done. Only "virtual" and "make believe". So surreal and unreal. But yet, let's not  be that sad.   Let's
rejoice!
Please, don't  ever think it will be a sad Christmas Day this December. Why? Simply because we have many reasons to rejoice. Mindanao continues to be generally typhoon -free. Also because despite COVID-19, we are all still "alive and  kicking". And yes,  surviving. Enough  reason to be joyful, right?
If you ask me, I'll surely and definitely be  rejoicing and extremely happy too. Why? Because Christmas is the day Jesus Christ, the Savior  is born.
And yes more so  because   at exactly the strike of midnight of Christmas Eve heralding  the onset of Christmas Day ,when church bells were ringing in my mother Amparo's  hometown of Guimbal in Iloilo in the Visayas some 73 years ago, a baby boy was born.
Lo and behold! That new-born baby, also named "JESUS" was  me. Yes, no one else but me!
And here's another untold story that must now be told. The town mayor of Guimbal, Iloilo at that time was Ramon Gestuveo, Sr. His eldest daughter was Amparo. While town mayor, he hired as his personal bodyguard someone named Martin Dureza from Janiuay, a nearby town . That lowly bodyguard took a fancy at the mayor's daughter Amparo and to make the story short, they both "ran away" and eloped. The mayor was so angry always exploding   "that sonnamagan  bodyguard" who took
his eldest daughter away.  Amparo and Martin were so afraid they never returned home. It was only when I was born that the angry mayor accepted the couple back home.  When  baby "Jesus" was first shown to him, the grandpa immediately and happily cuddled me in his arms. I  was the family's "peace offering", the savior that brought  the family together again.
 No wonder I later devoted almost my whole lifetime as a "peace-maker" working for   peace. It was only later in life  I realized that indeed, I started that early!