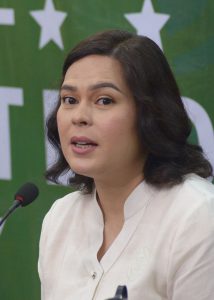 THE city government has sought the approval of the Regional Inter-agency Task Force on Emerging Infectious Diseases to declare the city a restricted area, Mayor Sara Duterte confirmed yesterday.
In her special program over Davao City Disaster Radio, Duterte made the confirmation as part of her reply to the document circulating on social media pages about the letter.
However, she said the document "cannot be discussed with the public"  because there were still inputs necessary as she was waiting for the reply of the task force.
The reply would form part of the upcoming executive order that she said she might eventually release in the coming days.
"It is wrong to say nga mao na ni ang polisiya diri sa Davao City," the mayor said in reference to the letter, adding that other members of the task force have made comments on the request of the city to restrict the entry of outsiders.
She also denied the rumor that the city government was planning to reimplement stricter quarantine protocols in the upcoming days, including the revival of the use of the food and medicine passes.
She urged the public to stop spreading rumors and only rely on pieces of information coming out credible sources like the official media accounts of the city government and the media.
The city government has implemented key measures to regulate the movement of residents to slowly curb, and eventually eliminate the threat of the coronavirus pandemic.
Among the key measures included the reimposition of curfew and the 24-hour ban on the sell of liquor. The city government has also implemented the Safe Davao Quick Response code system, although the implementation hit a snag after the website was brought down due to the high number of application.
On Wednesday night, the city government announced the resumption of the registration of government offices and business establishments into the program.