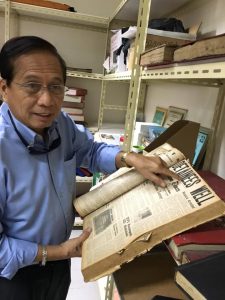 I RECALL this article I wrote 6 years ago when I visited last Monday,  November 9, the grave of my late father, Martin, Sr. who celebrated his 99th birthday in Heaven.  His remains were buried beside the tomb of Charlemagne Aldevera, Sr. my brother-in-law and husband of my sister, Marilou "Bingay". Here's that article. 
MEANING OF DEATH — When someone close to you  dies, what' s the meaning of "dying". Or what is the meaning of "living" for that matter?
I pondered deep  about this when Atty. Charlemagne Aldevera, then 64 years old, my  close buddy  and family member (husband of my sister Bingay)  suddenly passed away  around Sunday midnight from what we laymen usually refer to as "heart attack". Doctors have some  technical jargon for this. But it's something that comes stealthily like a thief in the night and without warning. 
Charlie ("Paging" to intimates and "Blackball" — his "call-sign" at the radio control base while I was Davao Congressman ) was in his usual bantering self before nightfall and before heading home for an early rest at their  Dona Luisa Subdivision house. Late that same afternoon, sometime in May, 2014, he was  a "miron" ( bystander)  in the "tong-its" card games   at the Matina golf clubhouse cracking his usual jokes and was laughing with the "boys" so heartily that when he left unnoticed,  the boisterous laughter just died down — also unnoticed. Unknown to his usual golf buddies,   he quietly headed back to the Davao tennis clubhouse (his early passion being tennis) and again joined in the fun with his tennis buddies who have not seen him for a long time and some surprised that he unexpectedly  showed up. (That must be his way of saying "goodbye everyone").
Close to midnight, Bingay woke up seeing all house  lights switched on and saw Charlie sprawled on the floor. He was not revived at all and I got a call early dawn (I was in Manila then)  getting the sad news from my sisters Bingay and   Doc Marj Culas.  
I was not surprised  when  Mayor Rody Duterte called  on the phone asking me where I was.  And told me: "wala na akong amigo". ("My friend is now gone".) Charlie was his bosom friend of many years and closest confidante. He even later told mourners that he was prepared to let go of a long-kept secret: that Charlie was the only person he shared his deepest thoughts and sought confidential advice "on all matters" and for a long time. "He had no other interest paramount but mine alone and I trusted his instincts", Mayor Rody confessed. "Now this," with his spread hands in submissive helplessness  and acceptance. 
While at Charlie's wake, a husband and wife, in simple  attire and in slippers  approached me and said they came all the way from Midsayap, North Cotabato when they heard that Charlie died. "Dakog tabang si attorney sa amo" ("Attorney helped us a lot"). And they did not even bother  explain what it was all about. They approached Bingay and whispered. Then they just shook my hand and quietly said a prayer and left. There were many similar stories and expressions during the wake. I am sure these are the same  scenarios  in every funeral wake  that we attend with other departed friends and family members.  
But what I am pondering about, as I write this, is not totally about Charlie. His passing just woke up a few thoughts. Yes, he was a good man for those who knew him well. He always had that sunny disposition. I remember one of his last comments about so many carping and complaining about the temperature   " init kaayo" ( "so hot") due to the constant brownouts that time. He simply said: "Okay lang. Mas init sa impyerno siguro." ( it's okay. But it's probably hotter in hell.") That's the way he always was: bantering and taking things lightly and easy. His usual line was "Easy ka Lang". 
But then I asked myself:  Does one have to die first for many to know how good one was? Why does a simple act of kindness or generosity remembered during wakes? In fact, why do  such simple human acts, expected of everyone, turning out as exemplary deeds? Have our human standards of goodness   all gone so low that ordinary , day to day ways and simple  acts,   have been regarded as outstanding and worth remembering? 
Those thoughts  bring me to a question many asked  when suddenly the late DILG Sec. Jesse Robredo died in a plane crash:  "why do we extol a public official like him for doing what is expected of every public official in the first place? Is being good or simple  so rare nowadays that the ordinary becomes legendary? Are decent public officials so few today and difficult to find that we extol the ordinary? Honestly, I don't really have the answers. 
They say funeral wakes are  all about "paying respects" to a departed one. And time for reconciliation.  I remember a story. It's  about a politician whose political rival  suddenly died. To the surprise of everyone,  he was one of the first to go to the wake. His political followers thought it was an act of reconciliation and the end of a bloody political fight in their town. But nope. He was there not to condole but to see for himself that his bitter rival was indeed "gone" for good!  
Wakes bring all sorts of people together — especially  long lost friends. And yes, Mayor Rody,  something he had never done before, took the microphone almost the whole time of Charlie's wake after midnight and soulfully  sang all the "favorites" of his friend .
I guess funeral wakes gather everyone in one place and unknown testimonials are whispered around in quietitude to heal the pain of loss. We all know  that one is not really missed until he has left. And when  we gather, we pray for the departed. But I had a moment of awakening when my sister Bingay, in one of her bursts of anguish and seemingly still  in a state of denial  just simply blurted out: "Please don't pray for Charlie! He is now in God's embrace.  But pray for me. Pray for all of us".   
Yes, indeed  the departed  is forever freed from the foibles of earthly life. It is us, who are still around,  who need God's blessings  to one day also peacefully depart   in dignity with grace — the way Charlie and many countless others did!