MANILA – Plastic pollution is one of the most challenging environmental issues in the world. While plastic remains a valuable resource –  especially in protecting food, the underlying issue of proper waste collection and processing remains a challenge. Simply, plastic continues to end up in nature due to improper disposal and lack of recycling facilities. Mondelez Philippines, maker of Eden Cheese and Cheez Whiz has started its movement to reduce its packaging footprint as well as supporting recycling activities.
It is Mondelez Philippines' mission to lead the future of snacking by empowering people to snack right; with the right snack, for the right moment and made the right way. The Company is focused on "Snacking Made Right" by using sustainable ingredients, by reducing its environmental impact and by making all packaging recycle ready. Their global commitments on packaging involve the usage of 100% recyclable packaging by 2025, reduction of packaging material, simplification of material choices, and working with coalitions to support improved recycling infrastructures.
To support these goals, Mondelez Philippines locally has partnered with The Plastic Flamingo to collect and recycle plastic packaging to help reduce marine litter.
The Plastic Flamingo is a social enterprise which aims to tackle marine plastic pollution by collecting and recycling ocean-bound plastic waste in emerging countries with maximum social impact. With the help of The Plastic Flamingo, Mondelez Philippines will be collecting a total of 1 metric ton or 1,000 kilos of plastic waste in a pilot project to run for two months. These will be collected from The Plastic Flamingo's network of collection points throughout Metro Manila, consisting of schools, villages, hotels, condominiums, offices, and more.  Mondelez Philippines has already started contributing to this goal by collecting 106 kilos of plastic through a recycling drive among its employees during its Purpose Day company celebration on October 1st.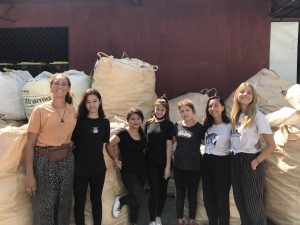 The plastic waste collected will then be transformed into 'eco-planks' which are multi-purpose in nature. These will be mostly used to make emergency shelter kits for Filipinos displaced by natural disasters. "Not only are we avoiding marine litter by recycling, but these shelters are durable because the 'eco-planks' will be resistant to different elements," shares Francois Lesage, CEO of The Plastic Flamingo. "These are considered more waterproof than wood and have better thermal insulation compared to metal." These 'eco-planks' may also function as piles, pontoons, boat decks, furniture, and construction material.  "We commend Mondelez Philippines for being committed to support recycling. We are all in this mission together and we must act now for the sake of our planet," he adds. 
Leah Raquin, Safety, Security and Environment Manager of Mondelez Philippines oversees sustainability projects for the Company. She shares, "We are dedicated to producing our snacks sustainably. For our Plant this means constantly innovating to reduce our use of resources. Most recently we have shifted to 100% renewable grid energy use for our plant in Parañaque. This new pilot project to recycle post-consumer waste also compliments our internal programs to process our own waste and ensure they do not end up in nature. We are happy to share that since 2017, 100% of our plant waste is being reused and recycled, so we don't contribute to landfill waste nor marine litter in this sense." 
Between 2019-2020, Mondelez Philippines also launched a school-based plastic collection drive among its adopted Joy Schools. Students and parents were encouraged to create ecobricks which were then turned into four recycled plastic play areas, recycling some 1 metric ton of packaging waste. Together with the Philippine Alliance for Recycling and Materials Sustainability, Mondelez Philippines has also signed the Zero Waste to Nature pledge, which commits that by 2030 all plastic the company uses is either recycle-ready or reused.