Last Episode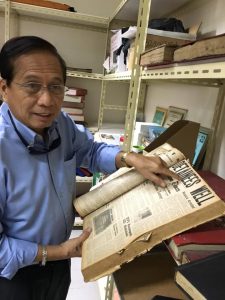 ZAMBOANGA CITY ( Nov 23, 2013)– I had that eerie, weird feeling scanning the destroyed houses as we "toured" the so-called "ground zero" where Ustadz Habier Malik and his MNLF armed force engaged government forces for about 3 weeks in  September 2013 in downtown Zamboanga City. Hundreds lost their lives there. Blood spilled freely on those grounds.
The tall building topped by a fluttering Philippine flag was almost skeletal, the hollow-block walls smashed and blistered by bullet or cannon holes –mute witnesses to what happened. No wonder Malik prolonged his "occupation". His was at a  high vantaged ground for combat. My thoughts immediately went to the many lives of soldiers and policemen and civilians and the MNLF — all victims of this madness. I was told Malik finally escaped with his remaining 9 close-in henchmen, badly wounded, although the military hinted about his possible death in combat. But another reliable source claimed he died from those wounds being a diabetic days after he breached the security cordon and escaped. Others whispered about him still up and about, badly bruised and wounded but planning another "Part 2".  I guess legends just don't die easily.
"TALK MINDANAO" —Our trip to see what was left of the war-zone 2 months after the siege,  came as an off-shoot of a small group meeting during the day convened by Usec . Nabil Tan, a high- ranking Tausug in Malacanang and former ARMM vice governor. He  headed the newly formed Mindanao Monitoring Office lodged in the office of Executive Secretary Paquito "Jojo" Ochoa. ( Nabil was my undersecretary at OPAPP years back). The forum was to re-visit the issues about Mindanao and of course the Zamboanga incident was No. 1 in the list.
Banker Ms. Teresita Uy-Sebastian, an articulate and outspoken Zamboanguena business leader was forthright on her thoughts about how the 3-week carnage and nightmare could have been avoided. But that was wishful thought at that  juncture. OPAPP Usec. Joe Lorena, an old hand in peace work starting from his MNLF days, gave context to the MNLF related updates while PNP Director Manuel Barcena (DIPO Eastern Mindanao) was passionate in this new advocacy for jointness and convergence in the AFP/PNP security sector. From the ulamas and religious leaders, NUCP representative Alih Aiyub gave the perspective of coherence in approaches while DPWH representatives Abdul Pandapatan and Nenita Robles gave inputs on the infrastructure sector. Businessman Vic Lao, representing the Mindanao Business Council, championed the concept of "inclusiveness" as a paradigm in the peace and development work and argued that this all boils down to economics and improving lives of people. He proposed a "national guard" force ( like those federal units in the US) to be first responders and vanguards in view of recent events of calamities and national emergencies.My former "girl friday" Diosita "Jojo" Andot, culling from her long experience in peace and development work in Mindanao, assisted by young demure OPAPP lady Vanessa Pallarco steered the forum. DILG Director Paisal Abutazil gave inputs from the governance perspective. Army Col. Rodrigo Gregorio Westmincom U7 gave us an update on the military campaign and the latest on the security situation and then showed us the sites of the combat zones.
"GROUND ZERO"RUINS — At our first stop at the bridgeway junction of coastal Barangays Mariki and Rio Hondo, veteran business-stalwart Vic Lao first gazed at a tarpaulin in Chavacano warning about unexploded bombs or ordnance still lying somewhere around. The warning had the last word 'MUERTE" — meaning "death". I pretended I did not see nor understand.
Almost 10, 000 houses laid in ruins in the several affected barangays, although the numbers in Mariki and Rio Hondo had still to be validated. Still languishing in the Zamboanga sports "grandstand" were about 118,000 evacuees still waiting up to now for "deliverance". No final word up to this day on what fate awaited them on their "return" or "relocation". For one, designated Task Force head DPWH Secretary Rogelio Singson, for all his competence and good record was just too overwhelmed with his other tasks but everyone was still waiting for him to move. The master plan for relocation and rehabilitation was supposedly done and laid out but everyone's anxiously waiting for its roll out. Nothing was still moving. There had been meetings we were told but nothing definite still. (ho-hum..yawn!) Evidently, the bureaucratic maze and the disagreements exacted a toll on this urgent matter. The political leaders, notably Mayor Beng Climaco, were perceived — rightly or wrongly — as hesitant to take decisive steps, trying to walk the tight rope of playing to the political gallery of whichever side fearful perhaps that some political costs hang in the balance. So things appeared to be in a gridlock. Then everyone was still looking for and asking about the P3.8 billion that President Aquino promised when he was there to take care of long term rehabilitation. And worse, no one seems to be in full charge of the situation. All anxious eyes are still directed up north to far-away imperial Manila.
WALK-OUT, ALMOST — Interestingly, I was told of one meeting where, at the height of the siege,  President Noynoy was reportedly just rambling and his thoughts disjointed that only due courtesy to the highest official of the land prevented some disappointed Zamboangueno attendees from "walking out". Obviously, the magnitude of the problem could disorient or shock, even the best of presidents. So no big deal. But it was talk of the town — although in hushed tones. I also heard the interesting story about the displaced lowly native "Badjaos" momentarily rejoicing over their new lucky break in evacuation centers, being fed now with Jollibee hamburgers and fries for the first time ever in their lives. But after a few bites, they decided to barter or sell away their handout burgers and freebies in exchange for their more accustomed palatable fare — the ordinary "isda". ( I guess, our well-heeled children must learn a lesson or two from our simple but robust brother Badjaos on not craving for that unhealthy junk food. Just a thought. )
RELOCATION "BLUES"—The recurring pending issues appeared simple — but actually deep and complicated. Take the example of the issue on "relocation". Most local, displaced residents who were still  agonizing in evac centers, preferred to go back to the sites of their destroyed houses or whatever were left of them, citing an old presidential proclamation reserving their localities as resettlements. They openly rejected relocation somewhere else. They opted for on-site rehabilitation and not to be moved somewhere inland where their indigenous ways and culture could not jibe and adjust to.
The sea was home to them and nowhere else.
But some in government and the distrustful public insisted otherwise, perhaps fearful that restoring them to their original enclaves would still make the places vulnerable as continuing sanctuaries for the bad. Others talked about real estate speculators cashing in on the deserted site. Others dreamt of transforming what was once a squatters colony into a "boulevard of dreams" as the city's aesthetic seaside promenade. This option, by the way, may give credence to the whispered "tsismis" that the unnecessary burning and destruction of some houses towards the tail end of the stand-off was part of a sinister plan for long term security considerations, to clean and clear the area and not allow a return of the residents for good. The growing chasm of distrust fed on this rumor all the more.
Then the matter of the curfew. For those traumatized and distrustful, the 12 midnight to 4 a.m. curfew was reassuring. To the security forces, it made life and work simpler. Anybody who moved in-between hours was suspect. But to those who wished that Zamboanga should have started towards early normalization, especially the businessmen who needed the additional hours to generate some business, an end to the curfew, —whether total or in phases — was most desired. But I was told city hall would have none of this at this time.
WHY SILENT. —But to me, and forcefully articulated by banker Ms. Tess Sebastian, the most serious to be addressed was the unfortunate polarization of the Muslims and the Christians as an aftermath of the bloody siege. This was not without reason. Some ordinary folks I talked to said the non-muslims and the muslims nurtured quiet distrust at each other worsened poignantly by the incident. When I asked why, they said Malik et al, targeted only non-muslims as hostages. Muslims or those who pretended they were speaking Tausug , although non-muslims, were released and allowed to go home. The christians were restrained and became hostages, unwilling pawns in the deadly game of Malik's brinksmanship. This seething distrust and the tearing apart of social cohesion was the most tragic. Rebuilding relationships was "a must" for Zamboanga to survive. Only the locals , Muslims and non-muslims alike, could do this, to speak with one voice and espouse unity again, diversity notwithstanding. Unfortunately, no one was paying attention to this. There's a communication flow gridlock. Everyone seemed to be playing safe. No one was talking. No one. "Nada". None yet anyway.
RISING FROM ASHES — And now, with all this still hanging, tempest "Yolanda" suddenly descended upon us and "stole the show" that could obviously eclipse and wipe out Zamboanga from the national radar screen. For a brief shining moment of international focus and attention, Zamboanga was now so suddenly forgotten. If this should come to pass, then this would become more tragic than the actual firefight and the bombing and the burning. So sad. To survive, Zamboanguenos must  wake up and move. And make some noise to recapture national attention and get urgent intervention.
Let us not forget that the onus of the burden of solving this and cleaning up the mess rested  squarely on shoulders of the President of the Republic no less who personally made that judgment call to resort to the use of force than consider a peaceful option at the crucial moment — not to mention the fatal miscalculations in the handling of the peace process that eventually led to the siege. Include in this the locals, both in government and in the private sector who joined in that judgment call. Too early yet at that time to say though whether that judgment call was correct. Time and events later would tell. But the tragic social costs were staring us right on our faces. Almost two months after the siege, the thousands of innocent victims were still suffering and crying for deliverance! There was no escaping!
Our message then was: "Make another judgment call Mr President! Now please, not tomorrow, By all means let's all help deal with Tempest Yolanda but let's not forget Zamboanga 'Hermosa'." (End of 2013 Zamboanga siege)