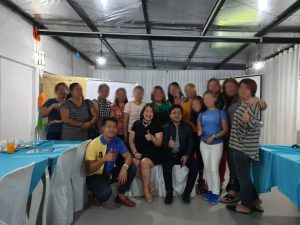 She never thought she would fall again to the same promises. Unfortunately for her  – let us call her Jean so she could have a face – it was what happened. Not just twice, but three  times. 
"You wouldn't imagine that you would be fooled again the second time around," said Jean, a  businessperson from somewhere in the commercial business district in Mintal. Actually, it was not  just twice, but three times. 
Jean, who felt compelled to hide her identity not only for fear of repercussions for opening up but  also to spare her family from those who have already ostracized them, said that what pained her  more was that she was among those who recruited her friends and relatives to invest in these scams. 
KAPA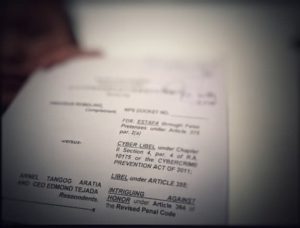 Jean first got the taste of getting scammed when she eventually gave in to investing in the Kabus  Padatuon (KAPA) model years after her friends and relatives bombarded her with recruitment  pitches.  
"I saw the marketing plan (of KAPA), same scheme (compared with previous scams). So I already  foresaw the future because their investment scheme will never be sustained," she said as KAPA,  based on cases filed against it, promised investors 30% of their donations as it was registered as a  religious ministry. 
But she finally invested P200,000. She increased her investments in KAPA but when the payouts  eventually ceased, she was left empty handed. "Yes, I received some payouts initially then, others  followed, then I invested more, including the money of my relatives, including that of my father…but  in the long run everything disappeared." 
SECOND TIME CHARMED 
After learning her lesson, she decided to a turn blind eye to the other investment schemes that were  offered to her. However, someone told her about Cirfund/Coin de Oro which, according to the  advisory of the Securities and Exchange Commission (SEC) in January 2018, was engaged in virtual  currency trading or cryptocurrency. 
Based on the platform of the entity, investors would earn 5% from investments of those they could  recruit, 1% from investments of indirect referrals from second to 10th level and 50% of those invested  they directly referred and converted into its cryptocurrencies. 
Hoping that she could recoup the investments she lost when she joined KAPA, Jean decided to  invest. 
Because of the lure of earning more by recruiting, Jean said she decided to join the recruitment  bandwagon, enticing both her relatives and friends. She said that through her group's active  recruitment, the entity was able to secure about P2 billion, about 70% came from investments/pay ins from Mindanao.
"Everything that we collected was never returned to the investors," she said. 
"The hardest part is that people believed in me, not them (the entity, the owners, the scammers),  because we are friends. At the end of them it was as if they (those who she enticed to join) was left  hanging," she lamented. This part of her life resulted in her getting depressed that she did not come  out of her house for six months. "I did not want this anymore, I told myself), she added. 
THE FINAL STRAW 
But the six months of isolation did not help at all when her friends from as far as Luzon also informed  her that there was a scheme better than the others. They were referring to the Achievers Golden  Marketing and Consulting (AGMC) which, according to SEC advisory in September, was not only  soliciting investments in foreign exchange and brokerage, but was also claiming it was on the  process of securing a secondary license from SEC.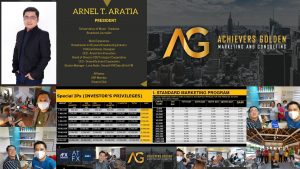 Based on the advisory, the entity was offering cash back guarantee to investors and that they would  earn 1% daily or 30% monthly for three months if they would invest between P5,000 and P1 million. 
"The person behind the entity showcased himself as someone influential having been an 'adviser' to  politicians as well as a media personality," she Jean said. 
After pouring in the capital and securing her first profit immediately a month after without having to  do anything but wait – a major sign that it was a scam – Jean did not put the lesson she learned from  the previous fallouts. She recruited relatives and friends once again because these people not only  trusted her but also, like her, were anticipating for high returns. 
One of those she recruited was a housewife who invested P23 million. What was so sad about it,  she said, was that the housewife was holding unfunded checks and as of this writing, has not  informed her husband, a businessman, about her losses. 
EDUCATION IS THE KEY 
Jean's story is not unique in this part of the country because of the continued existence of entities  masquerading as legitimate business, the Securities and Exchange Commission-Davao Extension  Office (SEC-DEO) said. 
"People with money to invest, or those who are looking for means to grow their hard-earned money,  must learn from the experiences of scam victims as these perfectly show and teach us not to invest  in schemes that promise `too good to be true' returns," said SEC-DEO Director Atty. Katrina Ponco Estares. 
"The main consideration always in investing is understanding whether the instrument being used is  registered and whether the entity engaging in investment-taking activities has a secondary license  with the Commission. The so-called recruiters are also required under the law to have a license to  act as capital market professionals." she added. 
Under the Securities Regulation Code of the Philippines, companies that want to sell securities must  secure secondary licenses, aside from their certificates of registration, while those who want to  venture in the money markets such as cryptocurrency must obtain approval from the Bangko Sentral  ng Pilipinas. 
Estares said that those who have fallen as victims of these scams and those who have knowledge  of groups engaging in illegal investment-taking activities must report immediately to the authorities  so that, at the very least, they could be investigated and, if possible, prosecuted.
"The victims hold the key so that regulators and law enforcers can run after them," she said, citing  the cases of KAPA whose founder, Joel Apolinario, was eventually arrested in July. 
"Let us listen to the stories of those who have become victims of scams. Until we understand how  these illegal schemes work, until we become vigilant in protecting our hard-earned money," she  added. 
The call is part of the observance of the first ever Investor Protection Week pursuant to Proclamation  No. 846 issued by President Rodrigo Roa Duterte last November 15, 2019. A week-long information  campaign will be conducted from November 9 to 13 to raise awareness about the importance of  investor education and protection, and reduce the investing public's vulnerability to fraudulent  schemes.  
The public is urged to report unauthorized investment-taking to the SEC Enforcement and Investor  Protection Department through email at epd@sec.gov.ph or at the SEC-DEO through email at  secdavao@gmail.com.  PR