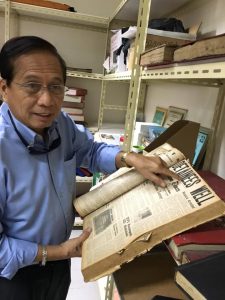 (2nd episode)
September 23, 2013  — I  had a long chat with former President Ramos in his Makati office last Thursday. He still holds sway in his 26th floor office and works like he is still President of the Republic. "Except that now I do not have cabinet members to help", he joked, admitting that his schedule was still full. He was preparing to leave for Singapore the following day to attend another international forum. His long working table was still full of piles of paper, clippings, documents, and publications.
When I asked: " Did you have stem cell treatment in Germany, Mr., President? You look much younger now."
He did not answer but motioned to an aide who immediately brought in cups of steaming coffee.  When I sniffed the distinctive coco aroma, he shoved a clipping of a "Philippine Star" item captioned: 'VIRGIN COCO OIL BOOSTS SEXUAL ACTIVITY– STUDY".  Of course, I did not pursue my question any more. I recall the last time, it was 'EMPERADOR" brandy that gave spike and aroma to the steaming coffee cup.
Then he stood up and we "squared off" with clinched fists and threw a few "make-believe blows". He said something about being an "ex" but not an "excess",   "re-tired" but not tired, spelled with a hyphen, meaning, fitted with new tires — for more traction. FVR was really still strong and physically sturdy that when my son JAY who was with me shook his hand, FVR squeezed it tight and did not immediately let go.  I saw Jay's face grimace in pain. "Can you still do 30 push-ups?" he asked.
ZAMBOANGA SIEGE— Then  we talked about the Zamboanga incident and his thoughts. He immediately said:  "ZAMBOANGA IS BLEEDING". And that he would not have allowed the standoff to drag this long. The primary objective was to save lives, especially of innocent civilians and quickly end the crisis.  Everything else was secondary.
"But then those in charge must do what they think is necessary," he said, recalling that when he was president himself, during the middle of an election campaign, he secretly slipped out of the country with former Speaker JOE DE VENECIA, crossed several continents to meet with Libya's strongman MOAMMAR KHADAFY in the latter's desert tent in SIRTE just to firm up a peace arrangement for Mindanao. That visit led to the eventual signing of the 1996 peace agreement with the MNLF.
One interesting note he said was the failed attempt of  the AQUINO administration to implement a ceasefire which Vice President JEJOMAR "JOJO" BINAY worked on. He was also unhappy at the way the vice president did his duties.
FVR said:  "In the first place, he should not have flown to Zamboanga. As vice president, he should stay out of harm's way knowing that the president was in the danger zone. That's what vice presidents are for — to take over the reins of government if something bad happens to the president". Then he recalled what happened in 1986 during the Cory administration when RAM rebel soldiers staged a "coup de etat" and FVR was President CORY's chief of staff. He remembered that when he   arrived at the CAMELOT HOTEL in Quezon City which had just been recovered by the AFP from the hands of the renegades headed by then COL. GRINGO HONASAN , he spotted in fatigue combat uniforms then Makati Mayor JOJO BINAY and Mandaluyong Mayor BEN ABALOS brandishing their Uzis and M16s. He recalled how he bawled them out and told them to go home because the AFP elements might mistake them for rebels and shoot them.  "They were also not in proper uniform. There were no  standard patches on their combat fatigues" he recalled.
" I don't know if President Aquino scolded VP Jojo when he landed in Zamboanga", he added.
But the saving grace of Vice President Jojo Binay was his attempt and efforts to end the standoff early and save lives by talking with MNLF chairman NUR MISUARI who evidently agreed to a ceasefire. The Binay proposal did not fly because President Aquino stuck to DILG SECRETARY MAR ROXAS' incantation to MNLF'S USTADZ HABIER MALIK: "surrender or die!"  Well, two weeks had already passed.  MALIK had not surrendered. And as of this writing (Sunday), neither had he died!
We are today on the 15th day of the Zamboanga incident. And things are not looking good up to this time.  I hope   President Aquino is now looking into other options.
Let me say it again: the military option is NOT THE ONLY solution. Those who think that wiping out the MNLF elements in the siege will put an end or closure to the problem DO NOT UNDERSTAND the so-called "Mindanao problem".  Remember the hard-line, all-out war policy of former PRESIDENT JOSEPH "ERAP"ESTRADA? Yes, he captured the main MILF camps at tremendous social and logistical costs with lives lost and about 1,000,000 Mindanaoans displaced from their homes.  The country cheered for such a brave, daring move. But did it erase the MILF from the map? NOPE, THEY EVEN FANNED OUT TO OTHER AREAS THAT SPREAD TROUBLE. This reminds me of what FVR told us a long time ago: "Don't put shit before an electric fan. It will only irreversibly and irretrievably spread it" (My apologies too Mr. President for spreading your  "word" without your permission.)
In the meantime, the Indonesian government which helped broker the 1996 GRP-MNLF peace agreement issued a few days ago a statement by its Foreign Minister dated 13 September calling on both the government and the MNLF:  "Peaceful solution is the only option that should be taken by both parties". Indonesia said that the way forward is to go back to the foundation or the fountainhead: the 1996 Peace Agreement.
One final note. I have heard time and again the following lines:" let's finish this off so this will not recur in the future…  Let's teach them a lesson… Let's apply the full force of the law. Surrender or be wiped out. No negotiations, etc." Of course, these words sound music to all of us who have gone tired — and already angry — at the violence that had been recurring.
Indeed, but at what cost? Is Zamboanga willing to suffer some more the price?  And how sure are we that exterminating the MNLF forces involved will put an end to their struggle? No doubt our superior AFP will win the battle. But will it win the war?
Well, as I said last time, at the end of the day, those who made judgment calls (like Nur Misuari and President Aquino) have accountabilities and responsibilities to face. Sooner or later.  History will be the final arbiter. But at the moment, sufferings and devastations are facing us right on our face. Zamboanga is bleeding and will continue to hemorrhage even if the fighting ends and the smoke clears. The question is:  is it worth it all?
Let's  all watch and see.  (Next last episode)