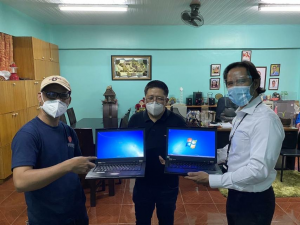 Despite challenges posed by the COVID-19 pandemic, BDO Network Bank (BDONB) pushed through with its corporate social responsibility programs supporting public schools. The rural banking arm of BDO Unibank donated nearly P3 million-worth of protective supplies, online learning tools, and other school materials to more than 1,100 public schools nationwide.
The programs, namely the Brigada Eskwela & Balik-Eskwela (DepEd initiated activities supported by BDONB yearly), and Adopt-a-School, normally aid public schools with learning and support materials aimed at improving the quality of their education. But recognizing the implementation of blended learning, BDONB found it best to provide items to help public schools continue holding classes while minimizing the risk for their students to contract the COVID-19 disease.
For the Brigada Eskwela, which usually focuses on building and refurbishing schools, the focus was shifted to protecting the health of teachers and students. BDONB donated bottles of disinfectant and washable face masks worth P1 million to the Department of Education.  This donation will particularly benefit 1,105 public schools.
This year's Balik-Eskwela, usually a donation drive for books and other traditional learning tools, saw donations of 65 laptops, 200 desktops, and 10 scanners.  These equipment were turned over to 275 schools, helping the teachers adapt in digital teaching modality.  This effort was done together with BDO Foundation and SM Foundation.  
BDONB employees were also actively engaged, and voluntarily donated COVID-19 health protection supplies (surgical face masks, face shields, alcohol and disinfectants), pocket wifis, laptop batteries and bags, desktop keyboards and hundreds of bond paper reams and school supply kits which benefited 550 schools.
The Adopt-a-School program, meanwhile, continued with its goal of providing school supplies, particularly bond paper reams to be used for printing of student worksheets, worth P1.4 million. 
"The health risks from this pandemic has posed a lot of challenges to students.  However, these should not totally hinder our efforts to provide & support continuous learning to our students," says BDONB president J. Antonio S. Itchon.
If there's one thing that unites all of these BDONB programs, it's the spirit of "pagsasama-sama," which involves volunteerism and working together to achieve a worthy goal.
"This sense of community should inspire all of us to engage in projects and acts–big or small–that harness our Filipino values of bayanihan: working together for the greater good of the community. When we see this pandemic in a positive light, it is also an opportunity for us to rise to the call of service and compassion. Dito natin nakikita ang galing ng mga Pilipino, kapag tayo ay kumikilos ng sama-sama para sa kabutihan ng kapwa natin," Mr. Itchon added.
Even with current social distancing regulations, BDONB maintains this "Sama-sama tayo" approach with clients and customers in their respective communities–but this time through its new Facebook Page. While regulations prevent the usual close, person-to-person, face-to-face contacts, clients and customers can still feel the spirit of sama-sama and bayanihan through BDONB'S Facebook Page. PR