The Region-XI Davao Chess Eagles lived up to their billing as one of the country's best after topping the 2020 Online Mindanao Inter-Regional Chess Battle Royale held over the weekend.
With a field of veteran woodpushers, the Region-XI Davao Chess Eagles swept their respective counterparts in the 7.5 hour per day, two-day marathon which featured the round-robin system following the blitz format for the standard and chess 960 events.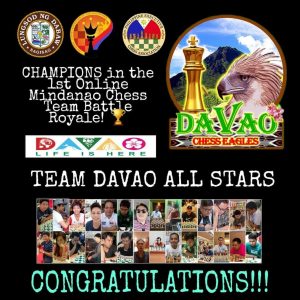 They tallied 2,455 points in ten matches beating the BARMM-Sigay Kutawato Vanguards, Region X-Men, the Zamboanga Caballeros, the Region XII Sox Warriors and the Caraga Miners with all identical 2-0 cards in the Executive and Men's Regular categories.
NM Jonathan Tan, along with AGM Lyndon Sombilon, comprised the R-XI Davao Chess Eagles in the Executive division. They were joined by Engr. Aglipay Oberio, Jimzon Trangia, brothers Ariel and Arnel Aton, Alfred Moulic, Rhynan Arce, Engr. Napoleon Recososa, Reynaldo de Guzman, Atty. Jong Guevarra, Atty. Melzar Galicia, Homer Rotulo, Christopher Yap, Cipriano Magalso, Ramil Langamon, Dr. Marlon Sayson Jr. and Engr. Allan Diez.
IM Oliver Dimakiling and FM Austin Jacob Literatus composed the Regular boards with its cast of NM Alex Lupian, NM Elwin Retanal, AGM Henry Roger Lopez, AGM Carl Zirex Sato, AGM Rowelyn Joy Acedo, Anthony Mosqueda, John Ray Batucan, Harrison Maamo, Jayson Salubre, Denzel Amar, Kenneth Tabada, Ruel Nuttal, Irwin Aton, Perkins Bayron, Vincent Umayan and Mohammad Scar with IA/FT James Infiesto as head coach.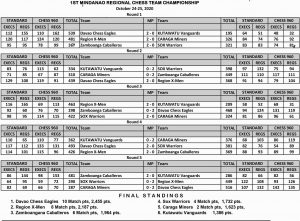 "We are happy for the win. We gave our best. Its good to have this competition among chess players in Mindanao as we foster camaraderie and sportsmanship despite this pandemic," Infiesto said.
Engr. Aglipay Oberio, Head Equipment Services Unit DPWH Davao del Norte District Engineering Office, made his presence felt by landing in the Top 5 best performer in the Chess 960 Executives with a total of 86 points good enough for second place and third in the Standard Executives with 76 points.
CEO JLT Marketing NM Jonathan Tan also channeled his way for third place in the Chess 960 Executives with 76 points.
Harrison Maamo also had his way to the Top 5 best performer with second place in the Chess 960 Men's Regular (75 points) and another second spot in the Top 5 Standard Men's Regular (76 points).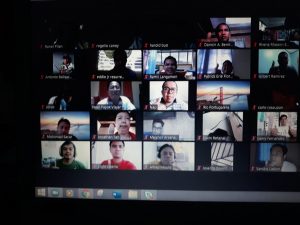 Region X-Men finished overall second place with 2,187 points followed by the Zamboanga Caballeros (1,964 points) and Region XII Sox Warriors (1,732 points) at second and third place, respectively.
The CARAGA Miners placed fifth with 1,623 points while the BARMM-Sigay Kutawato Vanguards is at sixth with 1,386 points.
Some P100,000 in total cash prizes were given to the winners, with the Region XI Davao Chess Eagles expected to received P25,000 cash plus P5,000 worth of grocery items for their respective beneficiaries.