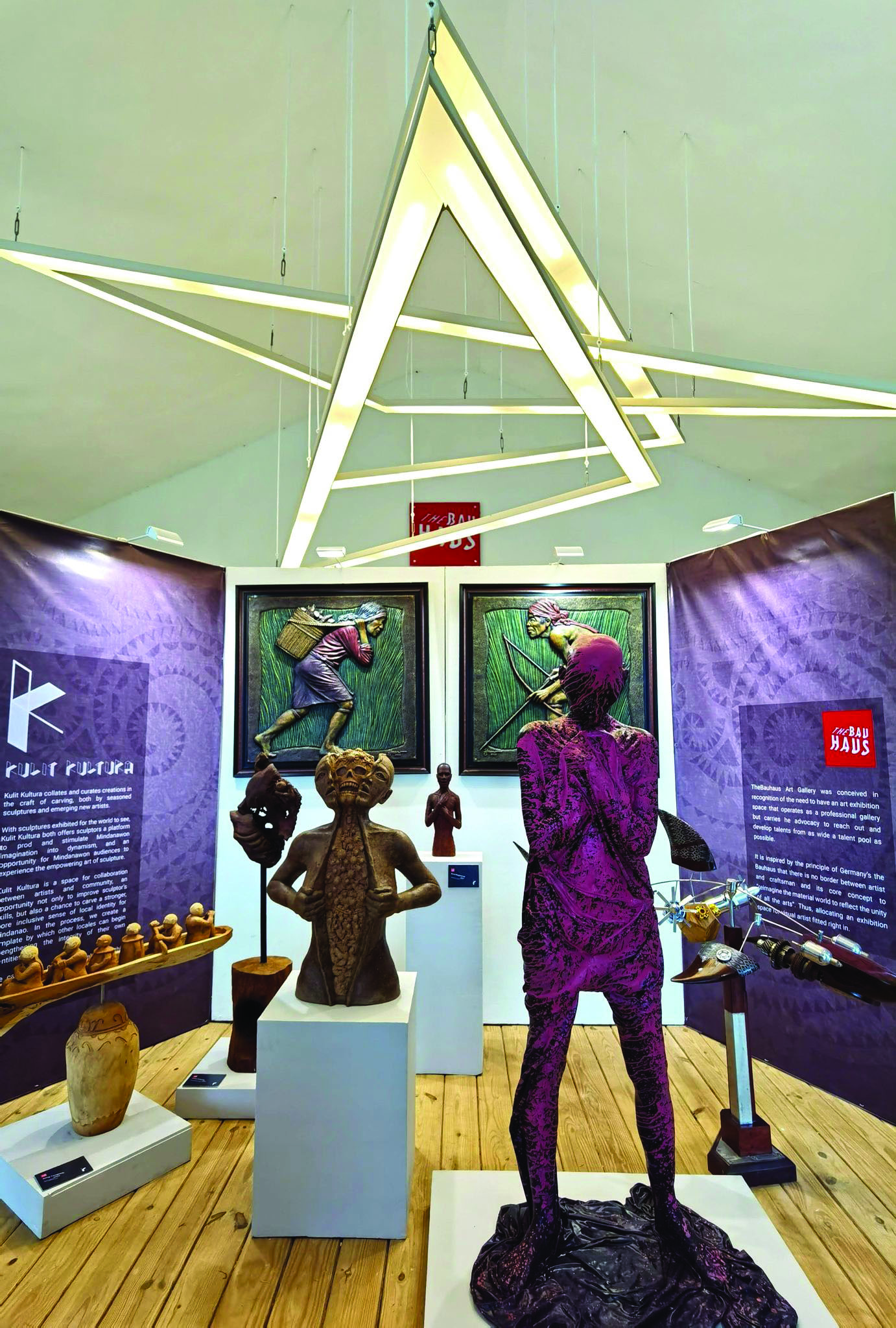 THERE is a bongga quality to watching a narrow, modern building of raw concrete standing recognizably different in the midst of nondescript commercial buildings that have mushroomed along the Dona Vicenta Drive in Bajada, Davao City. The Bauhaus Gallery, which was obviously named after the famous German architect Walter Gropius (1883-1969) art school founded in 1919 (operational only until 1933), aims as well to "to reflect the unity of all the arts" including the combination of crafts and the fine arts.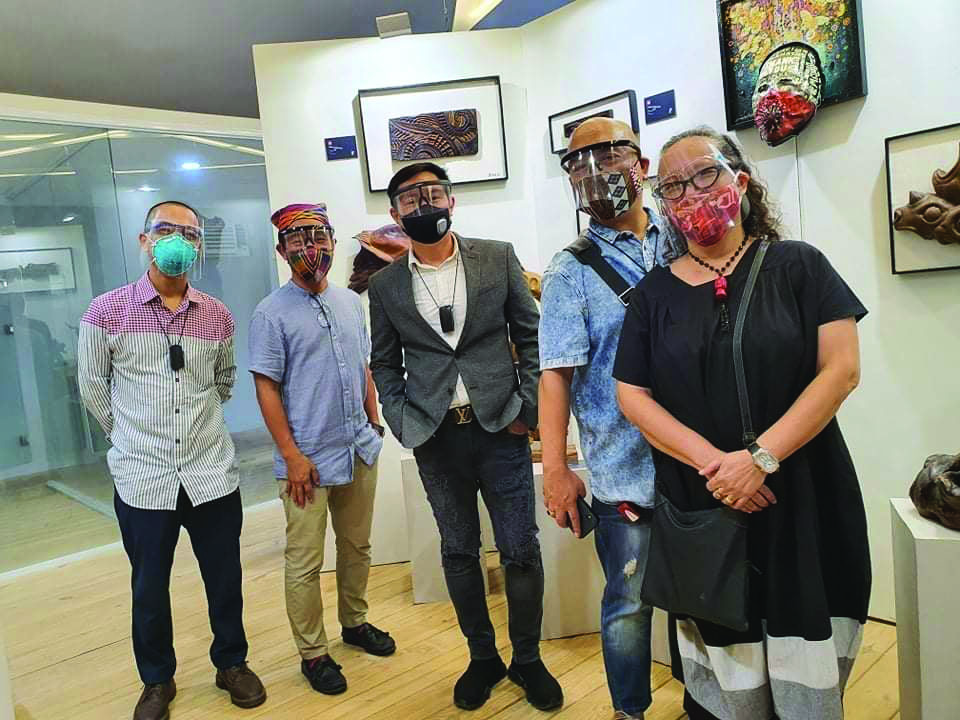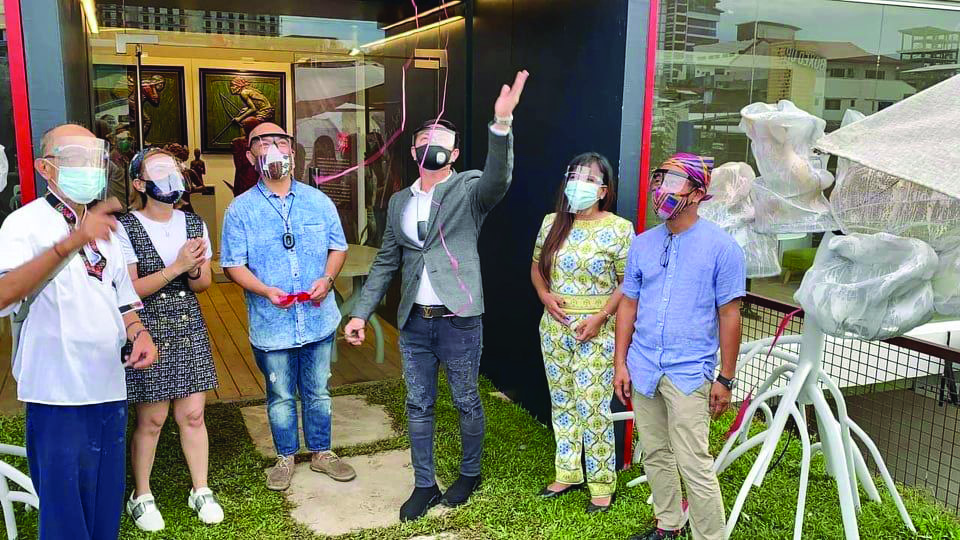 It's a little counter-intuitive to think that this crowded commercial area would have a center for, of all things, art. But last October 8, 2020, the Bauhaus Gallery launched Lakbay-Diwa's Kulit Kultura. Lakbay-Diwa is a Davao-based organization established with the mission of promoting art and its artists. "Kulit Kultura is launched significantly with the aim of breathing new hope to Mindanaoan art with this first art event since the Davao City lockdown due to the Covid 19 epidemic. Kulit Kultura is a space for collaboration between artists and community. It provides an opportunity not only to improve the sculptor's skill but also a chance to carve a stronger and more inclusive sense of local identity for Mindanao. In this process, we create a template by which other locales can begin strengthening the integrity of their own identities; with the sculptor and community helping each other in unifying the island's soul and celebrating what destiny we can carve and mould with what we have," revealed Ray Mudjahid Ponce Millan who is popularly known as Kublai. The 46-year-old Kublai is one of Davao's most prolific artist who, aside from being a sculptor, is also an art photographer, digital artist, painter and performance artist.
Kulit Kultura's head, Jonathan Traya, collated and curated the artistic creations by seasoned sculptors and emerging new artists in the exhibition. Showcased were the works of sculptors and painters namely Chico Arquiza, Jeff Bangot, Arnel Borja, Jag Bueno, Richard Buxani, Joel Castro, Mariano Catague, Gubb sol Cruz, Pope Dalisay, Victor Augustus Dumaguing, Bong Espinosa, Pinx Gaspe, Micha Laury, Henry Lazaro, Errol Magbanua, Raffy Malbacias, Jaime Conrado Medina, Hafid Millan, Kublai Millan, Carlito Talba Ortega, Vyankka Pauline, Dante Pintor, Benjie Saban, Jonathan Sensano, Jong Tangiday, Darell Blatchley, Algie Intapaya, Agi Pagkatipunan, Danny Rayos del Sol, Cecile D. Hidalgo and Banjo Satorre.
The Kulit Kultura exhibition was the first comprehensive show of Davao's sculptors who have forged a style of their own and yet, hopefully, are still evolving in the process. Their designs are impressively fresh (with some works impacted by the global Covid epidemic); and these artworks would most likely influence generations of artists to come. I was happy to meet for the first time and was surprised that the dentist Hafid Millan is also a truly talented artiste like his brother, Kublai. His intricately detailed carving on a pair of carabao horns done with his dental drill (oh yes!) is one for the books. I have always been an adoring fan of John Paul Albert Narciso Dalisay's mastery of his craft, especially his highly imaginative religious sculptures carved from driftwood. Proudly showcasing her remarkable ostrich egg artworks of pen and ink renditions of the Philippine Eagle was architect Cecile Dioquino-Hidalgo, a dear friend since our UP Diliman days. This was her first ever exhibition to join so you can imagine her excitement.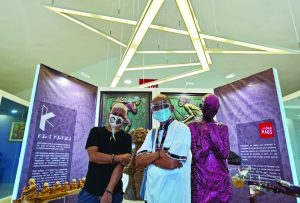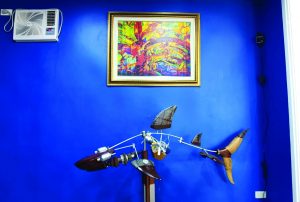 "My first ever participation. The creation of my love for the national bird, the Philippine Eagle, will finally be unveiled for the public to see. This is a platform for young and old artists who have artworks for display. A venue to be with well-known artists to boost!…The art pieces on display each had a different taste of class. Big or small, the art pieces had a story to tell; and I was moved by the display. We all start somewhere…," shared Cecile D. Hidalgo.
Kulit Kultura had set a benchmark of excellence for any exhibition of this kind. It is truly a fitting salvo for the anticipated Mindanao Art Fair 2020. I express my congratulations to all the artists who participated and the organizers of Kulit Kultura.