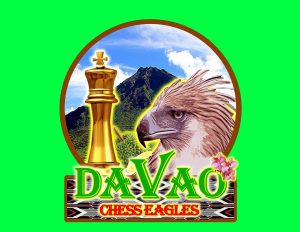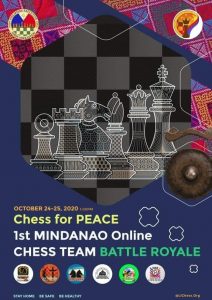 With a winning momentum on their side after a series of recent online tournaments, the Region XI Davao Chess Eagles eye another golden finish when they play in the 2020 Mindanao Inter Regional Chess Battle Royal online via Zoom this weekend, October 24 and 25.
NM Jonathan Tan, along with AGM Lyndon Sombilon, banners the team's  hopes in the Executive division, while IM Oliver Dimakiling and FM Austin Jacob Literatus head the Regular boards as they take on respective foes from Regions IX, X, XII, XIII and BARMM – Sigay Kutawato with a cash pot of P100,000 total at stake for the winners.
"This will be a great opportunity for the R-XI Davao Chess Eagles to showcase their skills next to their Mindanaoan counterparts in this scheduled two-day tournament. We do have the momentum after posting victories over Cagayan de Oro-Misamis Oriental and CARAGA in our previous online competitions," said IA/FT James Infiesto, who will be coaching the R-XI Davao Chess Eagles men's regular boards.
Tan and Sombilon, who stole the limelight on their previous wins over CDO-Misamis Oriental and CARAGA, will be joined by Engr. Aglipay Oberio, Jimzon Trangia, brothers Ariel and Arnel Aton, Alfred Moulic, Rhynan Arce, Engr. Napoleon Recososa, Reynaldo de Guzman, Atty. Jong Guevarra, Atty. Melzar Galicia, Homer Rotulo, Christopher Yap, Cipriano Magalso, Ramil Langamon, Dr. Marlon Sayson Jr. and Engr. Allan Diez in the Executives category.
Dimakiling, along with Literatus for the R-XI Davao Chess Eagles regular boards, is joined by NM Alex Lupian, NM Elwin Retanal, AGM Henry Roger Lopez, AGM Carl Zirex Sato, AGM Rowelyn Joy Acedo, Anthony Mosqueda, John Ray Batucan, Harrison Maamo, Jayson Salubre, Denzel Amar, Kenneth Tabada, Ruel Nuttal, Irwin Aton, Perkins Bayron, Vincent Umayan and Mohammad Scar.
Giving R-XI Davao Chess Eagles a run for this year's overall team title are the Caballeros de Zamboanga (R-IX) of Prof. Rey Reyes, Region X Men's Team of Fr. Vic Arellano, the Region XII Sox Warriors of Joselito Dormitorio, the CARAGA Miners (R-XIII) of Ray Urbiztondo and Salvador Navarro's BARMM-Sigay Kutawato.
It will be a 7.5 hours per day chess marathon,which will be played using the round-robin system following the blitz format for the standard and chess 960 events with some 250 top players expected to show up.
Teams will play the random chess 960 format on October 24 (Saturday) starting at 1 p.m. following a brief opening ceremony and will play the standard chess category on October 25 (Sunday).
Senator Christopher "Bong" Go is expected to give his special message while Philippine Sports Commission (PSC) Commissioner Charles Raymond Maxey will provide the inspirational message.