The Games and Amusements Board (GAB) Davao has a new Officer-In-Charge.
He is Director Arnulfo Paterno "Teng" Sazon II, who started from the GAB Cagayan de Oro City in 1993.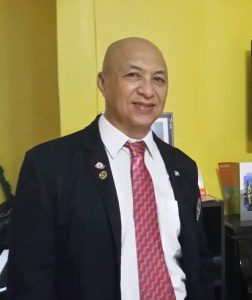 He first worked as a salesman before joining the government in 1990 as a Philippine Gamefowl Commission OIC for Region 12 based in Cotabato City.
When the gamefowl was merge in 1993 due to a passage of the Local Government Code, Sazon became the Sports and Games Regulations Officer 1 in CdO.
"I rose from the ranks. SGRO 1 then SGRO 2 then Senior SGRO then karun Supervising SGRO," said Sazon.
Sazon became the GAB CdO OIC when Tong Paguidopon retired on October 2019.
Sazon has been in the public service for 30 years now.
"Dugay pud antos. I am retiring in 2023 puhon. God willing," added Sazon.
"Wala na sa position. Basta nay trabaho ug healthy ta OK na," said Sazon.
Sazon took over his Davao OIC position last September and immediately had a staff meeting.
"I have my own management style. I want positive aura sa work place", he said.
"Di ko gusto nay lalis or unresolve issues labi na sa co-workers," said Sazon.
"I want it solve within us before mugawas labi sa sa amoa head office," he said.
Sazon is also a Davaoeno with his parents coming from Calinan – former Davao City policeman Col. Paterno Sazon and Rosaura Flordeliza Austria from Mati.
Sazon later grew up in Kidapawan were his father became the Chief of Police. He graduated in Ateneo de Cagayan Xavier University and had some master units with the University of Mindanao.
He is married to Crislucia Romanillos, an officer of the Department of Heath CdO. They have a daughter Emanuelle, 23 who is now based in New Jersey, USA.
Sazon is also an active member in the civic and religious organizations. He is the past president of the Rotary Club of Bay Area CdO and chapter head of the Brotherhood of Christian Businessmen and Professionals (BCBP) CdO West Chapter.
He is also LTN. COM. Guard Auxilliary 1001 sguad based in CdO. (Lito delos Reyes)