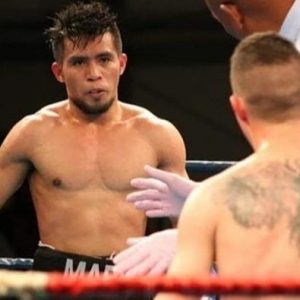 SUPER featherweight Mark "Machete" Bernaldez and welterweight Jameson "Bring Home the" Bacon stopped their opponents at the Manual Artime Community Center Theater in Miami, Florida, USA last Oct. 17.
The 26-year-old Bernaldez of General Santos City halted Julian Evaristo Aristule of Argentina in the 3rd round. Aristule was downed three times in the fight.
Bernaldez scored his 14th knockout victory and the 20th win against four losses while Aristule suffered his 13th loss against 34 wins.
Bacon, on the other hand, made a successful debut in the United States when he scored a 2nd round knockout over Gonzalo Carlos Dallera of Argentina.
The 30-year-old Bacon of Cebu now has 23 wins with 15 knockouts against four defeats while Dallera took his eighth loss against six wins.
Meanwhile, featherweight John Vincent "Mulawin" Moralde of Davao City lost by a 1st round technical knockout in 1:16 to Jose Enrique Vivas of Mexico at The Bubble in MGM Grand, Las Vegas.
All three Filipino boxers are from the stable of Osmiri "El Moro" Fernandez of Miami, Florida.
"Two wins and one loss for the team. Thank you for supporting the fighter," said co-manager JC Manangquil of Sanman Boxing Promotions. (Lito delos Reyes)