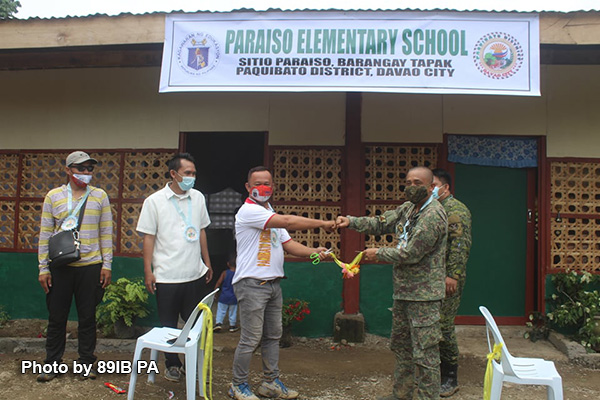 THE DEPARTMENT of Education and the 89th Infantry Battalion turned over a makeshift classroom to the IP community in Sitio Paraiso, Barangay Tapak, Paquibato District on Oct. 12.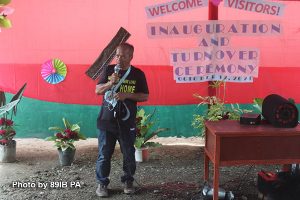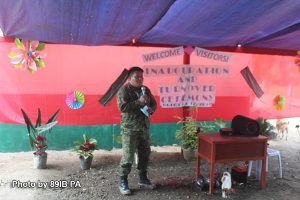 The Butay Elementary School-Paraiso Annex will serve Lumad school children who have to hike two hours to reach the nearest school in Sitio Butay of the same barangay. However, with no classrooms, they had to utilize the existing daycare center in the area.
The school is a two-classroom structure with concrete walls and zinc roofing sheets and presently has 77 enrolled elementary students. It is the 10th school that was built by the unit in the IP communities.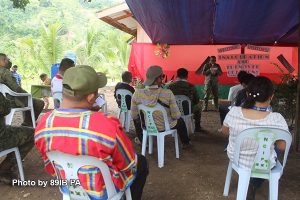 The project employed the Bayanihan concept – with the residents of Sitio Paraiso providing the labor, while government officials and the private sector provided the funds. The Army also helped tapped the foreman and carpenters to build the school.
There are now three makeshift schools in Paquibato District, and seven more in the most far-flung sitios of Kitaotao and San Fernando, Bukidnon.
The inauguration and turnover ceremony was attended by DepEd elementary school heads of Paquibato District, barangay officials, tribal leaders, private stakeholders, and donors, and members of the 89th IB and 1003rd Infantry Brigade.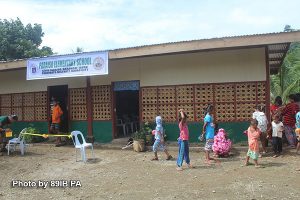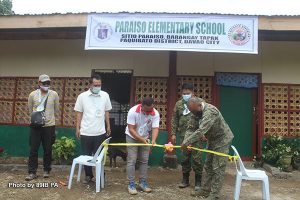 Lt. Col. Silas Trasmontero, 89th Infantry Battalion commander, emphasized the need for the government and the private sector to team up to address the issues in far-flung barangays, and protect them from being exploited by the communist rebels.
"This is only one of the manifestations of how EO70, or the whole of nation approach, works in ending the communist armed conflict in geographically isolated and disadvantaged areas," Trasmontero said.