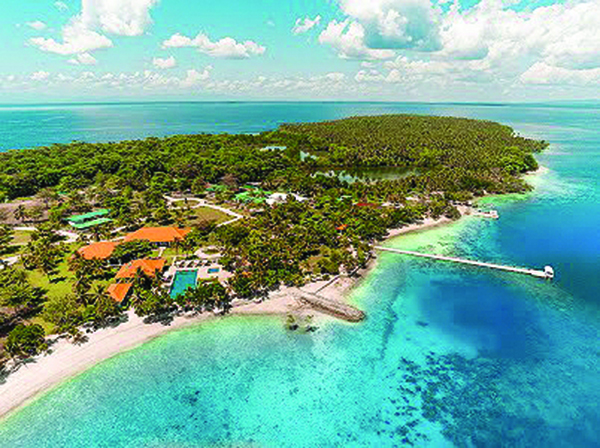 IT HAS almost been a year since I last stepped on the white sand (not dolomite, mind you) of a seaside resort since the Covid epidemic lockdown.  So when Dusit Thani Cluster Director for Sales and Marketing of Manila Lannie Alkuino Merilo messaged me last September " to catch up on the latest news and join an overnight trip to Dusit Thani Lubi Plantation Resort," I was truly thrilled and immediately accepted her invitation.  What an excitement it was to wait for the seaside resort trip to be realized.  The trip to Lubi Plantation Resort finally pushed through last October 9 on a bright thank-God-it's-Friday morning with the glowing presence of the already tanned Lannie Alkuino Merilo who had spent a week for a tourism business forum in Bohol earlier; and the happy company of Dusit Thani Davao's Assist. Manager for Marketing & Communications Lish Babela and Marketing Communications Executive Nove Patangan happily joining the group.  Assuredly, there is, indeed, a silver lining with better, brighter days where you can once again celebrate the much needed good times despite this Covida loca malady still in our midst.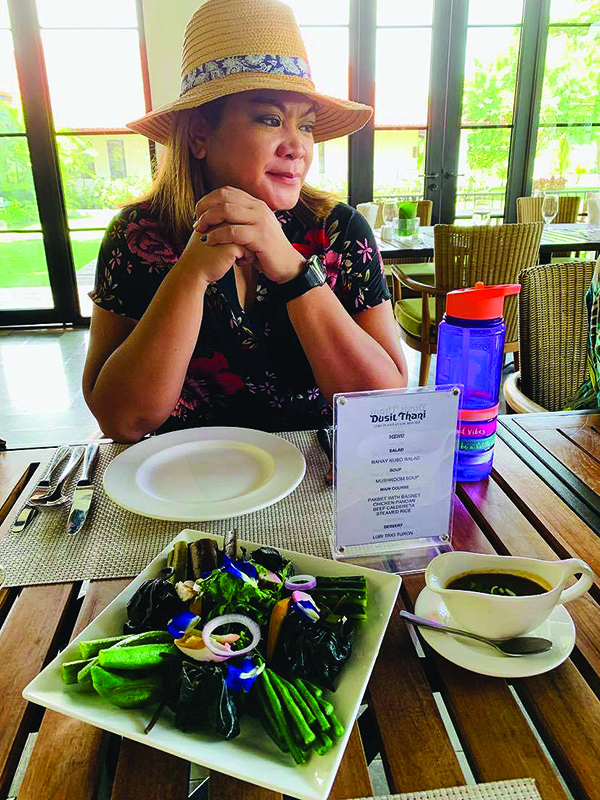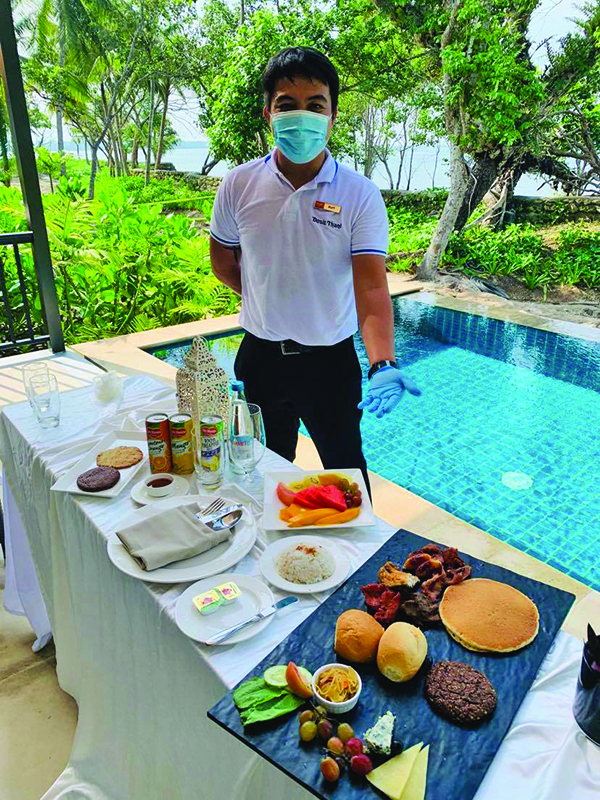 Parking my car at the "iconic landmark of Thai graciousness and Filipino hospitality" that is the Dusit D2 Davao, the hotel built through the partnership of Dusit Hotels and Resorts and Torre Lorenzo Development Corporation, Lannie, Lish, Nove, Kenneth Ong and I boarded a van which took us to the nearby Dusit Thani jetty where a speed boat was waiting for us.  The speedy boat ride to the private island located in Davao de Oro off the coast of Pindasan took about 30 comfortable minutes with Lannie informing us about the beachfront luxury at the Dusit Thani Lubi Plantation Resort.
"It is an exclusive island getaway, all of 36 hectares, which is surrounded by natural vegetation like coconut trees, unspoiled reef, coral gardens and a marine sanctuary.  The Dusit Thani Lubi Plantation Resort defines your ultimate vacation retreat in nature away from the usual crowd of many other holiday makers.  It is a distinctive resort with personalized service in a colonial Sri Lanka plantation-inspired planned environment with architecture designed by Manny Samson who is well respected and admired for his cosmopolitan world view from his developments here in the Philippines and abroad.  The Lubi Plantation Resort's nature-endowed location definitely played a role in directing Manny Samson's design inspiration.  A future plan will include the building of Dusit Thani Residences," revealed Lannie.

There is that unmistakable seasideness in Lubi Plantation Resort's distinct sense of place or genius loci.  It is one paradise where you can truly enjoy oceanfront living with endless options for activities and amenities the resort offers with gracious Mindanaoan hospitality.  Here, you will find not only the comforts and conveniences of home, but also carefree living at its finest while you soak in the best that sun-filled Davao de Oro has to offer.  "Here at Lubi Plantation Resort, we focus on providing things that our clients expect from us—comfortable and well designed accommodations, good food and entertainment, lively activities and genuine services," assured Lish.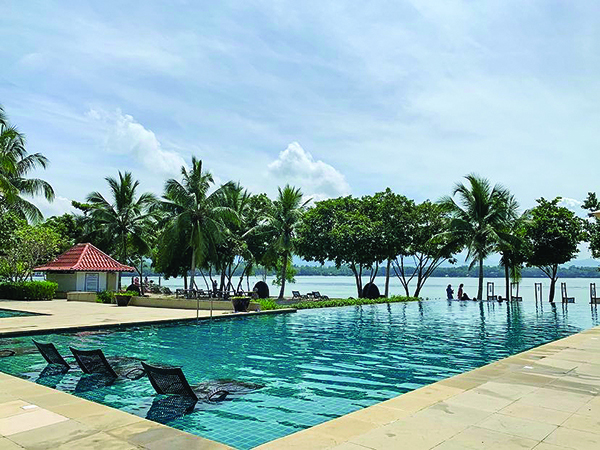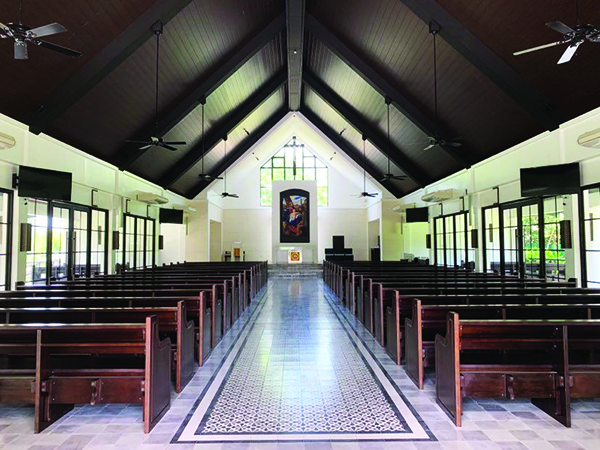 I couldn't ask for more in my assigned one bedroom seafront suite with a private pool, which is well-lighted at night, and comes with a sun deck/terrace where my breakfast was served by an assigned personal butler named Kurt.  All of 130 sq.m., the single suite includes a spacious bedroom, separate living and dining areas; plus both indoor and outdoor bathrooms.  The room's interior design is impressive with the room's furnishing, scent and lighting so meticulously thought of to please the discerning guests.  Yes, guests can choose from well-appointed, luxury seafront villas to deluxe seafront rooms depending on their budget.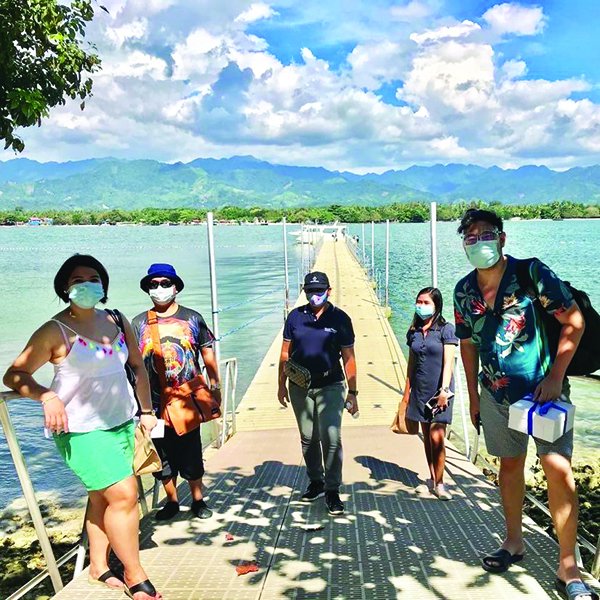 The resort has two F&B outlets.  The Tarictic Grill, where we had lunch upon arrival, offers Laguna chef Jacob's delicious Filipino cuisine like pakbet with bagnet, chicken pandan, beef caldereta plus grilled fresh seafood in his own signature style although intercontinental cuisine can readily be had for those who prefer it.  Enjoy your meal at the Tarictic Grill while having a nice view of the Davao Gulf.  On the other hand, the Burger Bar, where we had our despedida meal, offers artisan Western dishes like juicy burgers, pizzas and pastas and alcoholic drinks while one listens to the crooning of the in-house singer accompanied by a pianist.  There are also scheduled performances by the Lubi Plantation Resort's fire dancers outside The Mill where the Burger Bar is located.  At The Mill, one can enjoy playing table tennis, billiards, darts, and play station; or sing to your heart's content at the karaoke room.  Outdoor activities include playing huge chess pieces, tennis, and aqua sports like snorkeling, kayak rowing and jet skiing.
With the Chapel of the Holy Family in place, prenuptial shoots, weddings, anniversaries and honeymoons have made the Lubi Plantation Resort a favorite destination for obvious reasons.  Tamsi Hall readily provides that stylish venue for wedding parties.
Indeed, the Dusit Thani Lubi Plantation Resort is one self-contained seaside resort that provides most of what a vacationer wants and dreams of having.  What an enjoyable experience I had and I am grateful to Dusit Thani's Lannie, Lish and Nove for making my first ever resort experience for the year 2020 a truly memorable one.