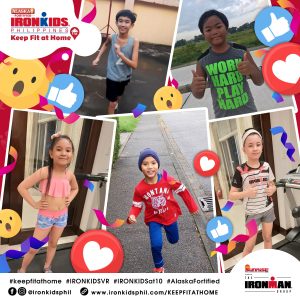 MANILA, Philippines—The Alaska Fortified IRONDKIDS Virtual Run is down to its last leg!
The all-digital running program for kids, organized in liue of outdoor races halted by the pandemic, is part of the Alaska IRONKIDS Philippines Keep Fit at Home—a series of virtual races and activities that will run until October, mounted by IRONMAN organizers, Sunrise Events, Inc.
"The response from the public has been overwhelming and we are grateful for parents who continue to encourage their children to keep fit even during the pandemic," says Harvey Uong, Managing Director of Alaska Milk Corporation. "This motivates us to further strengthen our commitment to providing nutrition to kids with the support of an active lifestyle platform like IRONKIDS."
To help participants prepare for their virtual runs, Alaska Fortified aired weekly Video On Demand webisodes featuring tips and techniques on how to keep fit at home.
"The purpose of these webisodes is to support kids with their strength and muscle development even while in quarantine," explains Filipino Ironwoman and Alaska Fortified IRONKIDS Director Ani de Leon-Brown. "With the help of regular exercise together with our Gatas for Breakfast, our IRONKIDS become equipped to take on the virtual run challenge and achieve their fitness goals."
Apart from de Leon-Brown, these webisodes are hosted by renowned athletes including Pinoy pride triathlon champ, August Benedicto, and global triathlon Aussie champs, Dimity Lee Duke and Sam Betten.
De Leon-Brown will be teaching easy morning exercises for the muscles and race training on October 17 while Betten talked about run training last October 10.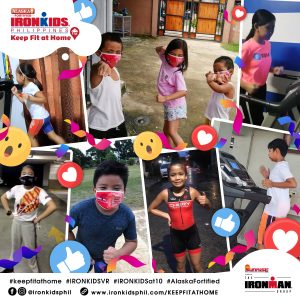 "Running takes an immense amount of discipline," says Betten. "And I am excited to share some techniques with the Philippines' future athletes. With focus, consistent exercise and, of course, proper nutrition, I am confident that our IRONKIDS will reach their goals."
These webisodes are housed in the Alaska Fortified IRONKIDS Facebook and YouTube pages.
Meanwhile, the remaining leg of the Alaska Fortified IRONKIDS Virtual Run will take place on October 17-18. Interested participants may register through www.ironkidsphil.com. (PR)