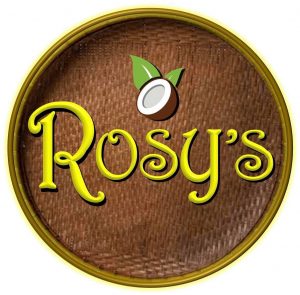 THE PINOY term for traditionally-made sweets of glutinous rice and coconut milk, two important ingredients that tropical countries like ours have in abundance, is "kakanin."  Kakanin is said to be derived from two Tagalog words, "kain" (to eat) and "kanin" (rice).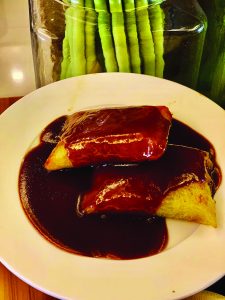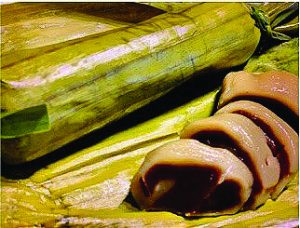 Malagkit or sticky rice grains that are ground up or left whole; or galapong, soaked rice flour which are then strained using cheesecloth, are both used for the traditional Pinoy kakanin which are carefully handmade.  Sweetened with cane sugar, wrapped in banana leaves and steamed in a clay stove in the past, these sticky rice cakes were once upon-a-time lovingly cooked as offerings to the Pinoys' pre-colonial gods and/or as gifts to very important guests and visitors.  "While the clay stove of the past may have been done away with and replaced by more modern stoves, the recipes and cooking methods of generations past are still used in these modern times.  Almost all kinds of kakanin has its own unique name," says Rose Kristine Duritan-Puyod, the young, lovely and efficient mompreneur of the three generations-old Rosy's kakanin.
"Suman sa lihiya is one of the popular native delicacies of the Duritan family's hometown in Samar.  It was in the late 1950's when my great grandmother, Nanay Mama Maria, would make this kakanin.  My mother, Rose Duritan, used to hear the word 'binagol' from her.  She would wrap them by cups in a leaf called 'hagikhik', then cook them in a big casserole filled with water to the brim.  By the 1960's, my grandmother Florencia made some modifications in making her own version of the binagol which she taught to her daughters. From what I learned, my grandma acquired her version inspired as she was by the cooking of her landlady Mama Goleng of Catbalogan, Western Samar.  This included a secret recipe for the caramel flavored sauce drizzled on top of the kakanin which is called latik," reveals Kristine Rose Duritan-Puyod who does not only cook well but sings well, too, being a long time member of music maestro Bong Aviola's Himig Singers.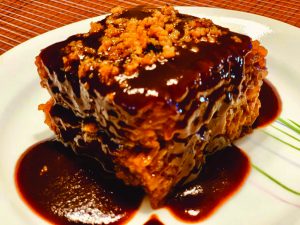 "I come from a clan which loves to cook with such a passion really.  Cooking for the Duritans is done with such a passion to learn and to master the craft; and heirloom family recipes are passed on from generation to generation.  The most memorable and the happiest family events are held during our town fiestas, Christmas holidays and New Year celebrations.  These happy, festive and very special occasions would not be celebrated completely without serving our family's native delicacies like muron/moron, biko sa latik and suman sa lihiya.  We have been serving these to family, relatives and friends during our special gatherings in commemorating special events.  And those who have tasted our kakanin would always give us their favorable reactionary response.  The wonderful responses we got inspired us to continue serving these native delicacies through all these years here in our beloved Davao City."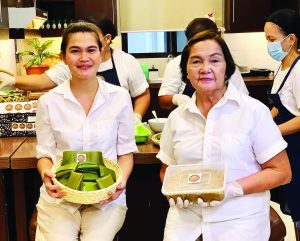 Relatives and friends of Kristine who have tasted the Duritan brand of kakanin and became so fond of it eventually encouraged the talented and pretty lady to make it into a home-based business.  As such, they can order freely without having to beg Kristine for favors whenever they have their frequent cravings for the native delicacies.  "Since it is not that commercially sold in Davao, I decided to introduce Rosy's kakanin as a niche product and just promote it through social media.  I eventually added other specialties like the biko sa latik and the different variations of muron like white choco muron, puro choco muron and plain salted muron," claims Kristine.
"While there are so many types of modern desserts like cakes and pastries in Davao today, I still believe that Davaoenos will still crave for the native taste of kakanin because it is a part of our custom and tradition served during birthdays, weddings and even funerals.  I am sure many of us have experienced seeing our grandmothers, mother, titas, sisters and cocinera lovingly prepare these traditional delicacies, which are so tediously and meticulously made by their very own hands, even for our breakfast and merienda.  The kakanin is truly a Filipina's labor of love.  Whether one is rich or poor who hails from either the province or in a highly urbanized metropolitan area, our native delicacies will always remain in our hearts and minds precisely because they are a part of our heritage food just like the adobo," professes Kristine ever so proudly.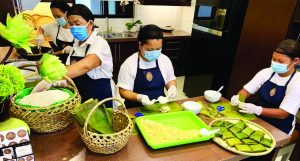 Indeed, Kristine's Rosy's kakanin is so delicious because it is made of the best and freshest of ingredients, then sprinkled with love, and accompanied ever so happily with Himig songs in the process of its making.  Please support our very own.  Go local and buy local.