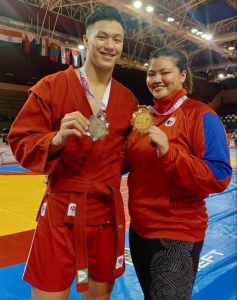 AS the worldwide battle against the deadly COVID 19 pandemic rages on, the Pilipinas Sambo Federation is still hopeful that the lean but tough team that they will be sending to the 2020 World Sambo Championships in Novi Sad, Serbia will be able to make waves against some of the sport's top contenders in the international scene.
The tournament scheduled from November 5-8 will be merged with the Serbia World Youth and Junior Sambo Championships which was previously postponed.
According to Pilipinas Sambo Secretary General Paolo Tancontian and head coach Ace Larida, who will be heading the 5-man team composed of 30th Southeast Asian Games medallists Sydney and Chino Tancontian, local boy Cresente Navarez and Troy Legaspi, the small but select contingent is now undergoing its intense preparations individually and the players are ready for the challenge ahead.
'Although the training process is difficult because of the pandemic we are confident that the team will be able to come up with some good results in Serbia. This will be the last year for Sydney and Chino as Juniors in the World Sambo rankings, so they're really out to make a mark,' Secretary General Paolo Tancontian said.
The 20 year-old Sydney, who also has a seat in the International Sambo Athletes Commission will be seeing action in the women's +80kg Sport Sambo event, while 19 year old Chino will be competing in the men's -90kg event. Both are in their sophomore year at the University of Sto. Tomas (UST).
On the other hand, 18 year-olds Cresente Navarez and Troy Legaspi, the son of MMA coach Jerry Legaspi will be testing their mettle in the -64kg and -60kg men's divisions respectively.
Navarez is one of the grassroots products of the Pilipinas Sambo Federation since it started in 2015 and was a champion wrestler in the Palarong Pambansa. He also hails from Barangay Leon Garcia here in Davao City which has been one of the areas badly struck by the COVID-19 outbreak (Leo Palo)