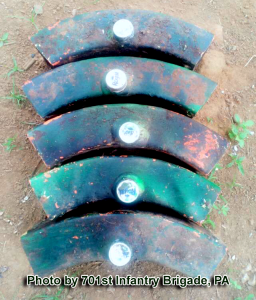 FIVE IMPROVISED explosive devices (IEDs) planted by the New People's Army were recovered by soldiers of the 701st Infantry Brigade in Sitio Cambaugo, Barangay Rajah Cabungsuan, Municipality of Lingig, Surigao del Sur.
Maj. Alex Alod, the civil-military operations officer of the 701st Infantry Brigade, said the IEDs weighed one kilo each and were reported by the residents of the area.
An informant led the soldiers to the location of the bombs, which were buried in the hinterland trails of Sitio Cambaugo.
Mayor Roberto M. Luna Jr. condemned the act of terrorism. " This is a clear manifestation of the NPA terrorists' blatant disregard of the safety of our people," he said.
Col. Krishnamurti A. Mortela, commander of the 701st IB accused rebels belonging to the Front North of the Southern Mindanao Regional Command, which operates in the boundaries of Surigao del Sur, Davao Oriental, Agusan del Sur and Davao de Oro, of planting the IEDs.
"It is not only a proof of the NPAs' desperate attempt to project power and relevance but a crime against humanity as IEDs pose grave dangers to the civilian populace. We thank them for immediately reporting NPA violations and criminal activities," Mortela added.