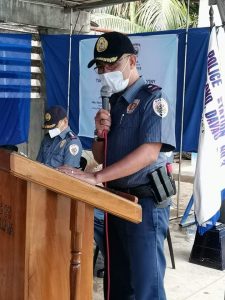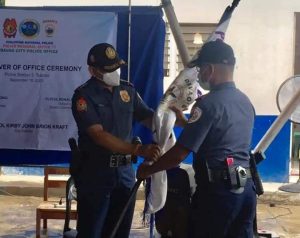 THREE POLICE stations welcomed their new commanders on Wednesday, Sept. 16.
Col. Kirby John Kraft, Davao City Police Office director, said the turnover ceremony was conducted at 9 a.m. at the Sta. Ana Police Station, and then Talomo and Toril police stations in the afternoon.
The ceremonies were attended mostly by police, government, and barangay officials.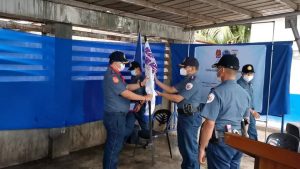 Maj. Benkalin Baluan was appointed the new commander of Sta. Ana Police Station, replacing Maj. Michael Uyanguren, who was transferred to Toril Police Station.
Also, Maj. Jason Baria, the former Toril Police Station commander, was assigned to the regional headquarters in Camp Quintin Merecido.
Meanwhile, Maj. Sean Logronio assumed as the new commander of the Talomo Police Station, the former deputy commander of Lt Col. Ronald Lao, who was designated also as the new group director of the Mobile Patrol Unit of the Davao City Police Office.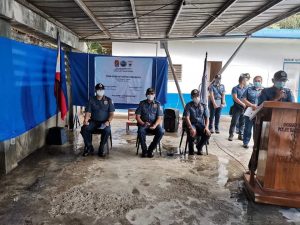 Lao, who was also the current chief of the Police Regional Office XI Special Operations Group, turned over the office of the Talomo Police Station to Logronio in a formal ceremony at its office in Matina.
Likewise present in the ceremony were prosecutor Myla Lao, the wife of Lt. Col. Lao; Neil Cañedo, the regional director of the Land Transportation Office XI; Bong Diaz, chief transportation officer; and barangay officials of Talomo District.
In his message, Logronio promised to work hard to fulfill his new duties as the head of the Talomo Police Station. He also asked for the cooperation of the men and women of the force.
"I am thankful for the people who helped me to where I am now. To DCPO city director, PCol. Kirby John Kraft, Sir Neil Cañedo, and my brothers in masonry, thank you for the trust and support you have given me. I will repay that confidence by delivering real, measurable results that will truly benefit the people I vowed to serve," he added.