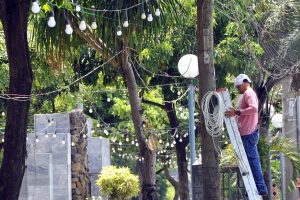 LAW ENFORCEMENT agencies of the city have put in place security and safety protocols as the Roxas Night Market is set to reopen today, six months after the government imposed lockdowns and movement restrictions to stop the spread of the coronavirus disease (Covid-19).
Col. Kirby John Kraft, Davao City Police Office director, has reminded the public to follow security measures such as the no-backpack policy, prohibition of bringing non-transparent water containers, and wearing of jackets as part of the protocols in the operations of the night market which opens between 5 pm and 11 pm.
Kraft said those going to the area will made to lower their face maks for five seconds just so their faces could be recognized.
Another policy is that there will only be one exit point and one entry point as security personnel will inspect bags and check body temperature at the entry point.
"We also put up a separate cubicle where inspection or search of all females will be conducted. We emphasize that it is for all the women, not only to those who are wearing the hijab to avoid discrimination," he said.
Also part of the group that will supervise the operations of the market are the Public Safety and Security Command Center (PSSCC), and Task Force Davao, including the City Health Office (CHO).
Those who will go to the night market are advised to bring their identification cards (IDs) for security and contact tracing purposes.
City Health officers and Civil Security Unit (CSU) personnel will be present at the entrance to ensure that appropriate steps for the contact tracing will be enforced.
"CCTV cameras were put at the entrances of every section of the roxas night market in order to take clear images of those entering, as well as their respective ID's," said Angel Sumagaysay, the head of PSSCC.
As part of the health protocols, people must always wear their face mask and face shield except when eating or drinking and observe a two-meter distance from other people. Handwashing stations and footbaths are also in place, Sumagaysay said.
According to Kraft, more than 160 personnel will be dispatched in the area composed of 90 police officers, 32 Task Force Davao, and more than 40 Civil Security Unit (CSU), City Health officers, and City Transport and Traffic Management Office (CTTMO) personnel.
As everything is all set for the re-opening of the Roxas Night Market, Kraft called on all Dabawenyos and visitors to follow all the security and health protocols for everyone's safety.
"Hinihingi naming ang kooperasyon po ng bawat dabawenyo at ang kanilang pakikiisa upang maging matagumpay itong atong reopening ng Roxas Night Market (We are asking for everyone's cooperation for a successful reopening of the Roxas Night Market)," he said.