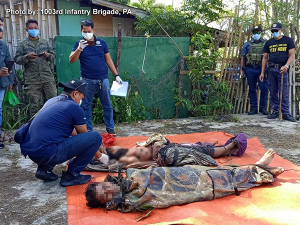 TWO COMMUNIST guerrillas were killed in a clash with the troops from the 27th Infantry Battalion on the morning of Wednesday, Sept. 9, in Sitio Kanacan, Barangay Saloy, Calinan District.
Meanwhile, the soldiers also caught one female New People's Army rebel and confiscated five high-powered firearms at the scene.
Brig. Gen. Nolasco Mempin identified the slain rebels as alias Alvin and alias Danny while the female guerrilla was identified only as alias Kylie, 33, from Bukidnon.
Mempin said they were all members of Guerilla Front 55, Sub-Regional Committee 5, Southern Mindanao Revolutionary Committee under Ka Marikit.
According to the report, the soldiers responded to the information given by the residents in the area on the presence of a heavily armed group in Barangay Saloy. Around 11:30 a.m., they chanced upon the rebels, which resulted in a firefight.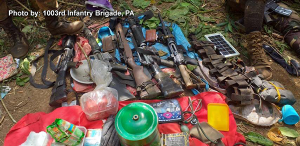 They seized one M4 rifle, three M16 rifles, and one M14 rifle from the scene during the clearing operations. The soldiers also gave chase to the escaping rebels.
Aside from the firearms, they also found one rifle grenade, 10 kilos of improvised explosive devices; two-way radios; two cellular phones; an external hard drive; a USB; a pair of binoculars; two solar panels; 15 backpacks, subversive documents, and cooking utensils.
The firefight occurred in a remote area away from the civilian population.
Meanwhile, the Army is working with the barangay officials and the police to handle the bodies and locate their relatives. The unit has also coordinated with the Scene of the Crime Operatives to process the encounter site.
Mempin extended his gratitude to the residents for cooperating with the government. He also sympathized with the family of the slain rebels.
"As for those who still do not cease to give up arms, we will continue to use the government's might to protect the people in our area of responsibility until the peace in all communities is finally established," he said.