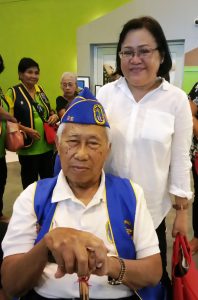 As the eldest of nine siblings, Daniel A. Cuizona was often by his father's side as a much depended on assistant, growing up in their hometown of Mabini, Bohol in the 1940s.
It was no wonder then when World War II reached the shores of the country; he followed his father into the mountains to support the Filipino guerilla warfare against the Japanese Imperial forces.
He doesn't recall his age at the time, but is certain he was supposed to be in elementary school but instead was gathering intelligence for the guerillas, ferrying messages or codes between camps, doing errands for guerilla commanders, and unfortunately, sometimes even saw people getting killed while out and about.
"I saw the guerillas execute two Makapili, saw a lot of firefight," he recounted, referring to members of the Makapili, or Makabayang Katipunan ng mga Pilipino, a group which gave military aid to the Japanese army, which of course included sniffing out guerilla camps and reporting it to them.
He declined to divulge other gory experiences, saying it was not something he liked to remember, but said that life going in and out of guerilla camps became a routine, as he wanted to serve alongside his father as much as possible.
"I feel like alot of us children at the time, really had to 'grow up' and act like adults sooner than normal," he added, because being the eldest son and apart from assisting his father and the guerillas, he also had to hold the fort at home while his father was out, and help his mother keep his younger siblings in line and the house in order.
"For most of us, it was not a question of if we were old enough. Almost everyone enlisted, or found a way to help guerillas. You could really feel there was a resistance [against the Japanese]," he said.
Daniel added the usual difficulties in the guerilla camps was procuring food stuff like kamote, rice, and other much needed goods, but they had a visitor who checked up on them regularly.
Former President Carlos P. Garcia, who was then a senator when the war broke out, would often visit their place, using a rowboat between Leyte and Bohol even though he was wanted by the Japanese.
"He knew about our guerilla camp and also my father, who was a councilor in our place during the war," he added.
After the war ended in 1945, Daniel enlisted with the Philippine army regular force after finishing highschool and again had to go to war, but this time, with fellow Filipinos.
"I had a rank of technical sergeant. We used to aid in clearing out Quezon province of Hukbalahap members in the early 1950's," he said. Hukbalahap, or Hukbo ng Bayan Laban sa Hapon, was a Communist movement by peasant farmers that ended in 1954 with the surrender of their leader, Luis Taruc.
Garcia would again figure in Daniel's life as in 1957, he was assigned as security detail to the office of the Executive Secretary when Garcia was elected as president.
After a colorful career, Daniel then moved to Mindanao and is now settled in Tagum city, where he is managing the affairs of the Veterans Federation of the Philippines as Region XI president. He is married and had three children, and now a number of grandchildren as well.
"In the organization, we always encourage our members, or their widows; their sons and daughters, to participate in our programs and meetings," he said, adding that the road to providing full benefits to war veterans and their families was still a long way to go before all of them were rightly compensated and their memories honored.
Daniel believes that supporting the initiatives and programs for veterans is a way of nation building because it gives perspective of how war is never just the experience of those who were alive to witness it, as its effects trickle down into the succeeding generations.
Already in his late 80s, he believes that now more than ever, with all the constant fighting of different groups, whether for principle, religion, or just plain old terrorism, around the world and especially here in our country; looking to the past to find ways to prevent the same mistakes in the future is one of the ways this generation can benefit from their experiences.
"We encourage participation in the activities of the veterans, because I believe it is a way to preserve the sacred memories of the war dead, and all that they fought for," he said.