A SEAMAN and three others were caught in a buy-bust in Susana Homes, Barangay Baliok, Talomo District on Tuesday evening.
He was identified as Eric Tac-an, 42, who was caught in the anti-drug operation, along with Marvin Quiñanola, self-employed, 34; Gerald Montefalcon, 32, truck helper; and Jeefpy Batoto, 28, truck helper.
Maj. Ricky Obenza, the Tugbok Police Station commander, said that it was Tac-an and Quiñanola who sold P1,000 worth of shabu to a police officer who acted as the buyer.
Meanwhile, the operatives chanced upon Montefalcon and Batoto who were unaware that the police were there. They went inside and received a sachet of shabu from both suspects.
Recovered from the possession of the suspects were five sachets of suspected shabu with the estimated weight of four grams and a street value of 44,000, as well as two Android smartphones.
The suspects are now in the Tugbok Police Station as they will face a case for violation section 11 of RA 9165 or the Comprehensive Dangerous Drugs Act.
Soldier, 4 others nabbed in Tagum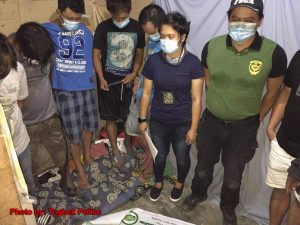 Meanwhile, in Tagum City, Cpl. Jared Sumaya was caught in a buy-bust that targeted another wanted suspect in Magugpo East, National Highway, Tagum City, Davao del Norte, early morning on Wednesday.
Nephi Noli Dimaandal, the spokesperson of Philippine Drug Enforcement Agency XI, said the target of the operation was Jay Michael Kinatac-an, 34, and a resident of the place. He was arrested when he handed over a sachet of shabu worth P10,000.
However, during the operation, they found Sumaya, along with Helario Juan Jr., Rolan Delos Reyes, and Lexis Moreño, at the drug den.
Seized from them were three sachets of alleged shabu weighing 11 grams with a street value of P165,000, drug paraphernalia, and the buy-bust marked money.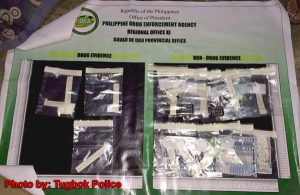 The suspects will be charged for violation of Sec. 5 (Sale of Dangerous Drugs), Sec. 6 (Maintenance of a Drug Den), Sec. 7 (Employees and Visitors of a Den), Sec. 11 (Possession of Dangerous Drugs), and Sec. 12 (Possession of Drug Paraphernalia), Article II of Republic Act 9165 or The Comprehensive Dangerous Drugs Act of 2002.
"Once Cpl. Sumaya will be found guilty of such act, the maximum penalty shall be imposed, in addition to absolute perpetual disqualification from any public office as stated in Article II, Section 28 (Criminal Liability of Government Officials and Employees) of Republic Act 9165," Dimaandal added.