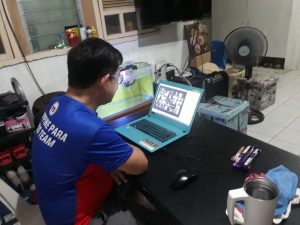 DAVAO City's bets will go for the closing victory when they face the Cagayan de Oro-Misamis Oriental's Finest in the 3rd installation of its online chess Goodwill Match this September 12 and 13 via Lichess.org.
Dubbed as the "Decision Match," both squads are in a 1-1 win-loss slate with  Cagayan de Oro-Misamis Oriental's Finest winning Game 1 and Davao City's All Stars getting exact revenge on Game 2.
"This will be big for us. We came up with this decisive Game 3 to close our rivalry with the Cagayan de Oro-Misamis Oriental's Finest. From then, we will have the Mindanao Chess League which is still online with six regions participating," said IA/FT James Infiesto who will suit up for the Davao City All Stars Executive line-up.
Infiesto will be joined by the rest of the Davao City All Stars Executive line-up, which also parades NM Jonathan Tan, Engr. Allan Diez, Atty. Jong Guevarra, Rey de Guzman, Ariel Aton, Rhynan Arce, Lyndon Sombilom, Jimzon Trangia, Arnel Aton and Engr. Napoleon Recososa.
Its regular boards roster will have IM Oliver Dimakiling, FM Aj Literatus, NM Alex Lupian, AGM Henry Roger Lopez, Engr. Aglipay Oberio, Anthony Mosqueda, Jayson Salubre, Jimmy Dano, Carl Zirex Sato and John Ray Batucan. Reserves are Atty. Melzar Galicia, Chris Yap, Alfred Moulic, Homer Rotulo, Ruel Nuttal and Mohammad Sacar.
The Cagayan de Oro-Misamis Oriental's Finest will have NM Levi Mercado, Domingo Oga, Cleto Vasquez, Fr. Vic Arellano, Jaime Frias II, Ralph Dalauta, Bryan Jose, Jason Nabatlao, Engr. Abdul Halil Abdulah and Engr. Paul Omongos on its Executive roster while IM Richelleu Salcedo, FM Rustom Tolentino, Lennon Hart Salgados, Johnnel Balquin, Christian Arroyo, Ronald Canino, Alfredo Rapanot, Nazario Ubanan, Allan Cantojos and Romeo Canino on the Regular boards. Jonard Labadan, Jun Ganuyan, Aljie Cantojos and Randulph Dalauta are the reserves.
Everyone will see action in the Arena Battle mode of play with a duration of 90 minutes.
Philippine Sports Commission (PSC) Commissioner Charles Raymond Maxey will be the special guest during the opening program on September 12 at 6:30 p.m.