IN PREPARATION for the reopening of the Roxas Night Market on Sept. 12, the Task Force Davao deployed civil-military operations personnel for house-to-house community dialogue.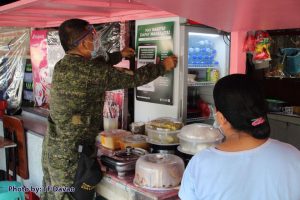 The troops also distributed 100 leaflets and posted 150 anti-terrorism posters on residential and commercial buildings. Furthermore, they conducted orientation seminars for vendors, trisikad drivers, and pushcart boys in the market.
Col. Consolito Yecla, the commander of Task Force Davao, said the communities must be actively involved in the securing the night market.
Yecla said other target-hardening measures to be implemented include a facial recognition area with health-protective barriers and private inspection cubicles for individuals wearing hijabs, burkas and robes.
"This is to prevent the entry of terrorists while respecting the culture and religious belief of individuals," he said. "The hijab and abaya have been used to hide suicide vests in previous suicide attacks in Sulu. "
The Task Force Davao and the Davao City Police Office are now preparing the security plan for the Roxas Night Market amid the threat of terrorism and COVID-19.
"With the support of the Davaoeños and their visitors, the task force believes that we can prevent the terroristic act that transpired four years ago in the Roxas Night Market," he said.
"Our preparation for the reopening of Roxas Night Market focuses on ensuring the security of the market against terrorists while observing safety protocols under the new normal," he added.
The facial recognition area, he said, is similar to what they have been using at the three entry points in Davao City. They are currently coordinating with the officials of barangays covering the Roxas Night Market for orientation seminars and house-to-house engagements with the community.
The trisikad drivers and vendors will serve as additional "eyes and ears" of the law enforcers and barangay police auxiliary.
Also, unlike in the previous security preparations, the task force will use the anti-terrorism campaign, "May Nakita? Dapat Magsalita!" which was launched only in July this year.
They will also implement previous security measures, such as the no backpack policy, no non-transparent water containers, no wearing of jacket within 50 meters from the inspection areas, strict control of vehicles, especially motorcycles, no drone policy, and others.
In coordination with DCPO, they will be again conducting regular panelling of the area prior to every market opening utilizing our K9 unit.
In the re-opening of the Roxas Night Market, TF Davao is once again asking the support of Davaoeños by being vigilant and proactive. The should volunteer themselves for inspection, report suspicious persons, remind everyone of the anti-terror policies of the city, and participate in the defense system of the city.
"Securing Roxas Night Market is a challenge during this time of COVID-19 pandemic," Yecla said. "However, we can again make Roxas Night Market safe and a great place to try local street foods and buy cheap items with the support of Davaoeños practicing the culture of security."