AN ALLEGED communist guerrilla and 17 others operating in Region 10 were sued for various atrocities on civilians and damage to properties.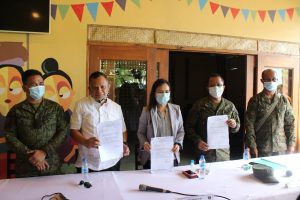 Through Bukidnon's Provincial State Prosecutor Rommel Alonto, the group sued the local NPA cadres for violation of International Humanitarian Law (IHL) or R.A. 9851 also known as Philippine Act on Crimes Against International Humanitarian Law, Genocide and other crimes against humanity.
The private complainants filed cases against Dionisio Micabalo alias Muling, secretary of the NPA's North Central Mindanao Regional Committee (NCMRC) at the Regional Trial Court (RTC) in Cagayan de Oro on Wednesday morning.
The other suspects were identified as Lorna Micabalo, Juvilito Pontillas, Almer Calacar, Alias Ka Yaya, Vicente Pontillas Jr., Vicente Pontillas Sr.,Warwen del Rosario, Virgilio Canoy, Reynaldo Libres, Bernie Hentapa, Richard Libres, Dahulo Ortez, Lorena Micabalo, Rosalie Omandam, Jonald Saludar, Emie Santa Ana Y Menenter and Alias Arabu.
Micabalo and 17 others were accused of burning a sugarcane plantation owned by Jonathan Salas in Barangay New Eden, Pangantucan, Bukidnon after he failed to give in to the NPA's extortion demands.
The attack happened at 7:15 a.m. on Dec. 12, 2015.
"Accused, conspired, confederated mutually by helping one another unlawfully and deliberately burned down the sugarcane plantation in Sitio Mapait, New Eden, Pangantucan, Bukidnon," part of the complaint read.
Alonto said that during the armed conflict between the government and the New People's Army, civilians who are not part of the conflict and their properties are protected by the IHL.
Under RA 9851, the law prohibits "attacks against the civilian population or individual civilians not taking direct part in hostilities." It is also stated that it is unlawful to attack civilian properties which are undefended and which are not military objectives.
Col. Ferdinand T. Barandon, 403rd Infantry Brigade commander, who assisted the complainants, said that the military will help civilians by "identifying the suspects with the aid of witnesses and to assist in the case build-up in coordination with the PNP to ensure that justice will be served."
Meanwhile, Maj. General Andres C. Centino, commander of the 4th Infantry Division, said that the filing of cases against Micabalo and his cohorts is a step closer to bringing the perpetrators to justice for. "We will not stop until justice is served against these NPA bandits," he said.
If found guilty, the suspects may be sentenced to 20 years imprisonment and a fine ranging from P100,000 to P500,000.