THE Department of Education has recognized two indigenous peoples makeshift schools in Sitio Simowao Diatagon, Lianga and Sitio Lucnodon, Mahaba Marihatag in Surigao Del Sur which were recently completed in time for the opening of classes in public schools in October.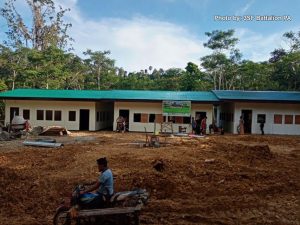 The schools, said First Lt. Krisjuper Andrei Punsalan, Civil- Military Operations officer of the 3rd Special Forces Battalion, will replace those schools that were linked to the Communist rebels and were allegedly used by the rebels to recruit members of the communities.
Punsalan said these new schools are part of the tangible peace and development programs of the Caraga Regional Task Force in Ending Local Communist Armed Conflict (RTF-ELCAC).
The setting up of these new schools were in coordination with the Surigao Sur Provincial Government and the Regional Peace and Order Committee headed by Gov. Alexander T. Pimentel, Regional Development Council-Social Development Committee chaired by Bayugan City Mayor Kirk A. Asis, DepEd Regional Office XIII headed by Regional Director Francis Cesar B. Bringas, the IP tribal councils and the local government units of Marihatag and Lianga.
The 544th Engineer Battalion under LTC Rodel V. Pangilinan CE GSC PA served as the workforce while the 3rd Special Forces "Arrowhead" Battalion under Lt Col Joey Baybayan set the groundwork and security through the conduct of Community Support Program (CSP), one of the mechanisms of the Whole of Nation Approach to End Local Communist Armed Conflict.
"Contrary to the false reports that we are closing IP schools in Surigao, the DepEd Province of Surigao del Sur worked hard in opening DepEd IP schools to provide quality education,"DepEd Provincial Superintendent Josita Carmen said.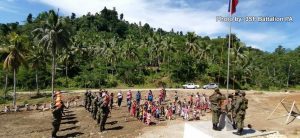 "We did not really focus on closing the alleged NPA terrorist-linked TRIFPSS or ALCADEV schools," Carmen said.
"Rather, we put our time and efforts to lay the foundation in building DepEd schools so that our IP community can have an option. Fortunately, the IPs have chosen to enroll in our schools as this is their request to have DepEd accredited IP schools in their communities," she added.
Datu Constancio Duhac, head of the tribe, said: "We refute and we can prove, without blurring our faces, that militant group MAPASU, Save Our Schools are spreading fake news saying that the government and the military are abusing the IP community."
"This is what we are working for, to build 'genuine IP schools' for our children to stop NPA terrorists' exploitation and recruitment. This is what the tribe dreamt of and we thank the government for fulfilling it," he said.