AT SOME point during our childhood, most of us become fascinated with drawing.  From drawing our homes to our families to our enemies to animals and more, we all do our best to let our imagination flow through our pencil and crayons onto paper.  For many of us, it's a mere passing stage that one day we would be a respectable artist.  For a select few, however, the dream truly becomes a reality.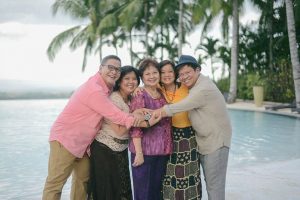 I recently interviewed one of those talented beings in the person of my dentist, Dr. Gigi Bacani Angeles alias Doc Cutie.  Gigi is the daughter of the late dentist, Dr. Ruben Estuart Angeles, and the beautiful Mother-for-all-Seasons cum writer/artist/businesswoman named Josefina Bacani-Angeles.  Gigi's siblings are all bright and successful professionals which include the Vice President of Security Bank Corporation, John Francis B. Angeles, an impressive, artistic photographer of the Camera Club of Davao.
"I never had any formal education nor lessons in painting.  I did not even know I could paint until I painted my first rock in 2019. It kind of came naturally. I cannot really say that there is a particular person who inspired me to paint.  Rock art has once more become a trend.  I thought it was fun to do, so I tried my hand on it.  This is not a new trend by the way.  Our ancestors and those before them drew their history on the rocky surfaces of caves and mountains.  God, Himself, cast His first commandments on stone. God is the greatest artist. What better tutor could there be," informed the smart dentist who professes her love for art.  Dr. Gigi is an admirer of the artworks of the old Masters like Pierre-Auguste Renoir, Edgar Degas, Vincent van Gogh, and Leonardo da Vinci.
"But because I never had any art education, I cannot analyze the works of the Masters as to what technique or hues or whatever there is that composes a work of art.  All I know is that when I look at their work, they elicit an emotion that I feel deep in my gut.  For me, that is what makes a painting good—when it affects the viewer emotionally; when it makes you happy or sad or angry," disclosed Gigi.  Indeed, what truly is a work of art than something that brings out passion and is powerful.
Gigi generally uses bright or even gaudy colors in her paintings for the reason that she wants "to share with those within my sphere the happy simplicity of the universe as it originally was meant to be."  She divulged, "I think of myself as a happy and outgoing person who looks at the world in its unaffected natural and joyful brilliance!"  Looking at Gigi's works is an exciting and visually active experience owing to her love for nature and her deep interest in vibrant colors in depicting it.
"Why rocks and stones?  Striving to be artsy, I could say that rocks stand for firmness and durability, and the bright colors for simple untainted truth.  I prefer rocks and stones as the purveyors of my artwork firstly because they can be had for free!  But what I really like about it is that sometimes, the rock itself suggests, through its shape and texture, what it should depict or represent.  While I look at it, searching for possibilities, I seem to detect its force telling me,'Paint me into a flower, or a tree, or a cat, a bug, a butterfly, a snake, a dragonfly, or a fish.'  My auntie Tita, a psychiatrist who disclaims any affinity to the visual arts, says I have an instinct that recognizes a stone's potential identity.  So I can draw its nascent claim into reality in its true colors."
When I asked the artistic dentist if the beauty and spirituality of her artwork is somehow an escape from the tensions of Covida Loca life, she immediately answered in the negative.  "It's not an escape.  But being on ECQ from March 15 to May 15 gifted me with the luxury of time to indulge on it.  I like what my friend, Mitos Urgel, had to say about my art: Gi-hatagan nimog pulos and existence sa bato."
Dr. Gigi Bacani Angeles' vibrant collection of rock art with her masterful orchestration of colors  is whimsical.  She has forged a style of her own and surely, is still evolving.  Her rock art is always of something unexpected.
"I coveted yet another rock from your kingdom.  Akin na lang ha?" is her usual message to me whenever she finds a stone or rock that interests her in our lot along San Pedro Street where she contentedly parks her car daily.  How can I possibly refuse her when it is bato for art's sake.
The Rock Art of Dr. Gigi Bacani Angeles