BEHIND the favorite and brisk-selling Pad Thai and other items on the menu of #Vinesbygarden café is 29 year-old Chef Rayhan William Teo, who hosted a Thai food tasting event for former neighbors and a few friends of his parents, Roberto and Wanda Teo.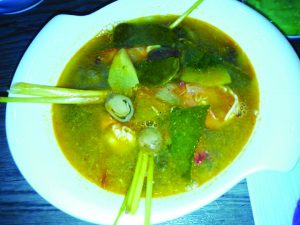 To open a modern Thai restaurant was his original wish, but hesitated at first as other Thai restaurants did not survive in Davao City.
Chef Rayhan relates "Another factor that discouraged me was the difficulty in finding some of the ingredients here in the City. When I finally found the space for rent at V Mapa, I decided to open a restaurant/cafe to cater to the students and their parents. This was the much safer route as there was definitely foot traffic coming in. I served rice meals, sandwiches, pasta, which was appealing to the students."
He adds: "Sadly 2020 was not a year for all, COVID had spread to the Philippines and Davao. Almost all businesses were closed during the hard lock down, including our business. When things got a little better we opened again with much stricter quarantine protocols in place to assure the safety of our customers and also ourselves. However sales were still low during this period. Rarely did we see people come in aside from the other tenants in the building. It was the school closing down due to COVID that really hit our sales."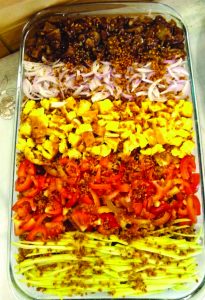 But hope was not lost for Chef Rayhan. He started to sell and market online a few of the original Thai dishes that were supposed to be on their menu from the beginning. Then he noticed a larger portion of their sales was from their Pad Thai and Satay. "This was a sign for me, it was telling me that I needed to change in order to survive and to move forward during this time. That was when I decided to fully change everything in Vines and become a Thai restaurant. Our menu is small at the moment but slowly we plan to add more items in our menu."
"Vines is my take to Thai cuisine. I create most of my items from scratch but I made it more pleasing to the Filipino taste, while still trying to keep the Thai food essence."
Rayhan started cooking when he was in high school, cooking for family and friends – simple dishes that he learned from the internet. His very supportive parents allowed him to enroll in a culinary school,
His culinary education started at the Institute of International Culinary and Hospitality Entrepreneurship (ICHEF), Davao City and took additional studies at the International Culinary Center (formerly French Culinary Institute) Manhattan, New York City, taking a course on Professional Culinary Arts Program.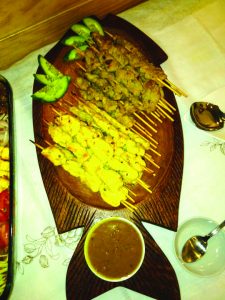 Rayhan's career include: Line Cook – Pizza Station in Marta Manhattan, New York City, Line Cook – Garde Manger, Saucier, Expeditor at Chef's Club by Food and /Wine, New York City  and Line Cook at Le Coucou, Garde Manger, New York City.
Chef Rayhan had short Training Sessions at Manila Marriot Hotel – Cru Steakhouse, Balesin Island Club – Phuket Village, in Thailand and Toscana Village in Italy.
Vines is located at Coral Quays Building, Ground floor, V. Mapa Street, corner Panganiban Street, in front of Davao Christian High school. It is open Monday to Saturday, 10:30 AM to 7:00 PM.
Items on the menu include Pad Thai, Pork/Chicken Satay, Pomelo Salad, Tom Yum Soup, Thai Green Curry, Bagoong Rice, Mango Sticky Rice, Pandan Coconut Custard and Fondue. Drinks are Thai Iced Tea and Fruit Refresher.
For the duration of the KADAYAWAN FESTIVITIES, Vines offers a 20% discount on all food items until August 31, 2020.
Photo Credits: Jojie F. Alcantara