ROTARIANS are generally not deterred by pandemics. In fact, they see them as opportunities to serve their communities. So the corona virus did not slow Rotarians down. They just got more creative and resourceful.
After all, Rotary is a founding partner of the Global Polio Eradication initiative that reduced polio cases by 99.9 percent. It has been working to eradicate polio, a deadly infectious disease that mostly affects children under the age of five, for more than 30 years now since Rotary's first project to vaccinate children in the Philippines in 1979. So fighting viruses is part of a Rotarian's mission. And Filipino Rotarians are among the most active in both ending polio and now the coronavirus.
The 28th President of the Rotary Club of Downtown Davao (RCDD), Myla Cocon-Agustin, a creative social entrepreneur since she was in her teens, is leading her club in finding ways to help the government in its coronavirus response.
Even before she was officially inducted into office last August 7, 2020, she already led, not only her club, but other Rotary clubs in District 3860 covering Visayas and Mindanao, in providing personal protective equipment (PPE) for healthcare workers at the Southern Philippines Medical Center (SPMC); city and barangay health workers of the Davao City Health Office; and selected public hospitals in Region 11, 12, and 13. She also helped protect those who protect our communities by providing PPE for Davao 911 and the Philippine National Police (PNP) when the entire country was in lockdown.
To demonstrate that Rotary is taking this public health crisis seriously, these are the ways the Rotary Club of Downtown Davao adapted and responded to the new normal:
First, the induction of officers and turnover ceremony was postponed to a time when quarantine restrictions have become less stringent and gatherings are allowed for as long as it will only occupy half the capacity of the venue and health protocols are in place.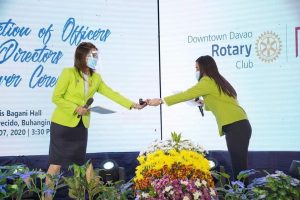 Since Chief PNP Archie Francisco F. Gamboa is a member of RC Downtown Davao and PNP is a major beneficiary of many of the club's humanitarian projects through the years, he graciously offered to host the simple ceremony at the Pulis Bagani Hall at Camp Merecido in Catitipan, Davao City to make sure security and health protocols are strictly observed.
All attendees were screened before entering and asked to accomplish contact tracing forms. They were provided with face masks, face shields, and sprayed with alcohol before being ushered to their tables with seats spaced more than one meter apart. Each table was provided with hand sanitizers as well.
The celebration was different than others in the past, but everyone agreed that it was one of the most meaningful and beautiful events they attended because doing it that way highlighted their care and concern for one another's safety and well-being. It also made them realize that the most essential things in events like this are community, solidarity, and shared commitment to a higher purpose.
Second, they kicked off the start of their Rotary year by generously giving to the unserved and underserved sectors in the community through donations to the Davao City Health Office of 21 infrared thermometers, 21 alcohol dispensers, 21 alcohol stands, 21 gallons of alcohol, 21 foot baths, 42 packs of chlorine, 210 face shields, and 105 boxes of face masks. They also distributed face masks, face shields, and bottles of alcohol to tricycle drivers in highly populated barangays in Davao City.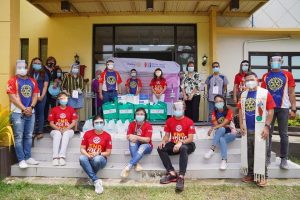 Third, they hosted an urban container gardening webinar attended by Rotarians and Rotaractors in different parts of the Philippines. No less than the father of urban container gardening, Davaoeño Jojo Rom, and Davaoeña Miss Universe representative, Alaiza "Inday" Malinao, both advocates of sustainable farming for food security in the time of pandemic, as resource speakers.
Fourth, they are sponsoring scholarships for 2,000 out-of-school youth in Davao City through DepEd's Alternative Learning System Anytime, Anywhere program. It is a public-private partnership for blended learning in response to the government's policy of no face-to-face classes. It is ALS online and on television so learners can finish high school at their own pace and wherever they are in the country.
Fifth, they made sure the children living with cancer at The House of Hope in SPMC will always feel the love of Rotarians even during this time when everyone is struggling with depleting resources. A significant cash donation from the family of Police Director-General Archie Gamboa and RCDD Past President Twinkle Gamboa, in honor of the August birthdays of their two children,
As President Myla said: "For me, Rotary is being part of a group of kindred souls who share your commitment to service. It is not the prestige of being part of an elite club. It is the opportunity to make a difference in other people's lives and let that experience also transform your own."
The catch phrase in our nation these days is "We heal and rebuild as one." For Rotarians, this is the year they transform their clubs and themselves to better respond to the new normal and to open more opportunities especially for those who are left behind.