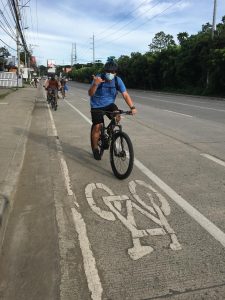 LOCAL biking groups are gleeful with the presence of the almost-complete designated bicycle lanes in Davao City.
Mostly composed of sportsmen-businessmen, city-based bike groups traverse the 72.2-kilometer lane that is visible in the city's key streets.
"We love biking. Its good exercise for us as well as bonding with our group. The bicycle lanes are useful for us especially when we travel in downtown areas going to our prospective trail routes," said Pablo Garcia of the PTKRS Bikers Club.
Garcia is joined by Gary Trinidad, John-D Fuerte, Coey Gempesaw, and Rommel Estrellado as the group travel through the city's bicycle lanes going to their planned trail routes at least twice a week.
Davao City's first phase of its bicycle lanes covers MacArthur Highway, Quirino Avenue, the corner from Sta. Ana Avenue to Alcantara, Quimpo Boulevard, Dacudao Avenue, Cabaguio Avenue, or Leon Garcia, the corner Magsaysay to corner San Pedro Trading; corner from Quezon Boulevard to corner CM Recto Avenue, corner JP Laurel to Fr. Selga Street, Maa Road, and Pichon Street.
"Bikers should be cautious when they use the bicycle lanes. Aside from wearing a helmet or headgear, use of headlights, reflectors, riders should also stay alert for vehicles and persons passing by or walking," added Buboy Arrieta who mostly cruises through the city's streets more than mountain trails.
Arrieta is joined by brother Kokoy, along with Barrientos brothers Radley and Roy who are more on the urban route every weekend.
Davao City Transport and Traffic Management Office (CTTMO) head Dionisio Abude recently said that they are now on the second phase, which covers some 19.4 of the 72.2 kilometers target. It covers 11.6 km along the Davao Agusan National Highway and 7.8 km along the MacArthur Highway. The proposed bicycle lanes from Carlos P. Garcia Highway (Diversion Road), Panacan to Lasang will then follow.
The creation of the bike lanes complies with the order of the Department of the Interior and Local Government (DILG) urging all local government units (LGUs) to establish bicycle lanes in all local roads to support those who will bike to their work destination due to the reduced capacity of public transportation under the community quarantine.