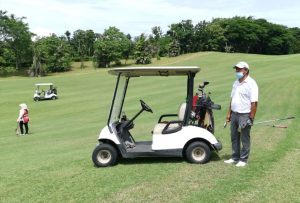 CADDIES play a huge role in golf. However, this time in the "new normal," golfers will have to do it all by themselves with no caddies beside them.
"It's part of our safety protocols during the pandemic aside from the must use of face masks, social distancing and disinfectants," said Tommy Inigo, general manager of the Rancho Palos Verdes Golf and Country Club.
All three local golf courses – Rancho Palos Verdes Golf and Country Club, Apo Golf and Country Club, and South Pacific Golf and Leisure Estates follow the same safety protocols in the new normal under Modified General Community Quarantine (MGCQ) in which the city of Davao is designated.
Under the new normal, golf courses are temporarily doing away with caddies in which they will be assigned per flight acting as spotters or markers and as well tasked to repair divots and rake bunkers.
Golfers are to follow strictly the one player per cart, bring your own towel/water container, and this time a maximum of four persons per flight.
"It's a bit of tiring especially here at the very wide Rancho Palos Verdes Golf and Country Club wherein we have to drive the cart ourselves, bring our own clubs such as putter, chipper and pitching wedge when we arrive near the greens," said sportsman-businessman Bok Mata who took a round for the first time since the pandemic struck at the all-weather course located in nearby Mandug last weekend.
Much more, the all-weather par 72 Rancho Palos Verdes Golf and Country Club have designated paths in which carts are only allowed to pass through or park but mostly are quite far from the greens or tee off mounds.
"We have to add effort to walk from the cart paths to the greens after getting our clubs. Unlike before, our caddies used to bring our clubs or park our carts as we step onto the greens. Caddies also help us read the greens before putting but nowadays we have to do it ourselves. It's a bit of a challenge," he added.
Aside from the absence of caddies, golfers are to avoid large gatherings on tee mounds, no handshakes or high fives, no use of lockers and must advise the club prior to their playing day schedules.
Caddies on their part also miss their task to join golfers when playing.
"I hope there will already be a vaccine for this COVID sickness so we can come back as normal caddies who join golfers in their game. I hope it will be within the year," one caddie said in vernacular.
On the other hand, the Rancho Palos Verdes Golf and Country Club recently opened its clubhouse for dine-in but will only accommodate 40 percent of its playing customers.
"We did put on markings on chairs and tables at the clubhouse to follow strictly social distancing," Inigo said.