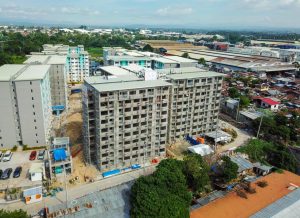 Damosa Land Inc., one of Mindanao's leading property developers, reached another milestone for Seawind in the midst of the pandemic, as it topped off its sixth and final tower this week.
Keen on hitting its targets and delivering its promise, Damosa Land resumed the construction of the six-tower condominium community upon the go signal from the local government while observing strict protocols with its workforce on site. 
With 229 units and rising nine stories high, Seawind's Tower 6 boasts of its premiere advantage – an unobstructed view of the Davao Gulf against the backdrop of the Island Garden City of Samal. It also offers convenience to its residents due to its proximity to the entrance complex and commercial building, which will start construction by next year.
"Our situation right now has reinforced the value that we are championing in Damosa Land – the importance of having your own home. This continues to drive us to keep track of our commitment to deliver what we have promised to our clients," said Ricardo Floirendo Lagdameo, Head of Damosa Land, the real estate arm of the Anflo Group of Companies.
Leading the Topping-off ceremony are members of the management of the Anflo Group of Companies (l-r) Engr. Ruel A. Tan, Oscar V. Grapa, and Alfred E. Samson.
In the development pipeline for Seawind are its Phase 2 amenities, parking building, and commercial complex to complete a self-sustaining community. Meanwhile, it also remains steadfast in keeping the local economy moving by sustaining jobs for people.
Various projects across Damosa Land have also recorded steady progress even while following strict guidelines imposed on the construction industry. During the quarantine, the company has seen continuous development in its industrial ecozone, mixed-use property, residential and office spaces.
"We stay committed to achieving more milestones and delivering developments to our clients amid the pandemic. Damosa Land is solid on hitting its targets for 2020 and the next year," Lagdameo remarked.