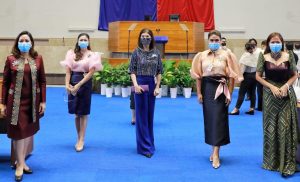 THE 5TH SONA of Pres. Rodrigo R. Duterte pushed through as scheduled on July 27, 2020 with a very strict health protocols among those who attended.
Out of the total 303 members of the 18th congress, 243 coming from the congressional districts and 60 coming from the party-list representatives only 26 were given the privilege to sit as members of the Joint Session of the Congress and Senate for the State of the Nation Address (SONA) of PRRD.
There were 25 congressmen in the initial list and they were as follows Speaker of the House Allan Peter Cayetano, Deputy Speakers Johnny Pimentel, Luis Raymond Villafuerte, Dan Fernandez, Raneo Abu, Dong Gonzales, and Rodante Marcoleta; House Majority Floor Leader Martin Romualdez; House Minority Leader Benny Abante; House Deputy Minority Leader Janette Garin; House Secretary General Jose Luis Montales; House Deputy Secretary General Brian Raymund Yamsuan; House Sergeant-at-Arms Ramon Apolinario; and Reps. Robert Ace Barbers, Michael Defensor, Elpidio Barzaga, Eric Go Yap, Lani Cayetano, Juan Miguel Arroyo, Boying Remulla, Wes Gatchalian, Chicoy Alvarez, Divine Yu, Jonathan Sy- Alvarado, and Bambol Tolentino. Last minute inclusion was Cong. Sharky Palma.
Cong. Claudine Diana "Dendee" Bautista together with Cong Paolo Duterte, Cong. Lord Allan Velasco and Cong. Jay-jay Suarez were given the invitations to attend the SONA by the Office of the President. However, Cong. Paolo Duterte was not able to attend so it was only Cong Dendee Bautista, who hail from Davao Occidental as the only member of congress who came from the Davao Region.
There were only 5 women attendees present during the SONA who are members of the Joint Session: Cong Janette Garin 2. Cong Lani Cayetano 3. Cong. Divine Yu 4. Cong Dendee Bautista and 5. Sen. Pia Cayetano.
Every member of the Congress and the Presidential guests are ask to take a PCR (swab) test. And in the morning of Monday, July 27, 2020, everyone had to go a RDT and only those who are negative are given ID and allowed to enter the Congress. Upon entrance of the plenary hall, all were given new sets of face shields and face masks. And strict social distancing was properly observed.
It was noticeable that PRRD tried to go down to the plenary to approach all officials and guests but ws graciously stopped by a PSG staff.  PR