THE DAVAO All-Stars lived up to their quest for sweet revenge when they completed a huge comeback next to the Misamis Oriental-Cagayan de Oro's Finest in their second online competition of the 7th Goodwill Match Chess Championships over the weekend.
Playing the Standard and Random mode of play via Lichess.org site dubbed as "The Rematch", the Davao All-Stars came up with a total of 413 points over Misamis Oriental-Cagayan de Oro's Finest's 354.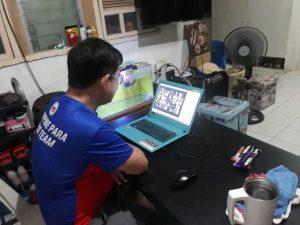 It was remembered that the Davao All-Stars lost in their first online encounter two weeks ago.
This time it was different.
After being down by as much as 16 points on day one which featured the Standard competition, the Davao All-Stars completed a huge comeback on the final day of action, overpowering their respective counterparts in the Random mode of play winning by 59 points ahead.
"It seems that team Misamis Oriental-Cagayan de Oro took us lightly after the led as much as 16 points. In the Standard, four points in the Executives and12 points in the Regular Boards on the first day. Kami on our part, when our backs are on the wall, fighting for honor, for Davao City, regrouped, prayed, and fired up our determination to stage the comeback win," said IA/FT James Infiesto who finished with 19 points for the Davao All-Stars Executives.
NM Jonathan Tan led the Davao All-Stars Executives with 26 points followed by AGM Lyndon Sombilon with 25. Other scorers were Ariel Aton (20), Engr. Napoleon Recososa (20), Arnel Aton (19), Reynaldo de Guzman (18), Rhynan Arce (17), Jimzon Trangia (17), Rey Urbiztondo/Alfred Moulic (15).
For the Regular Boards, FM Austin Jacob Literatus and Aglipay Oberio finished with similar 29 points followed by Anthony Mosqueda (28), AGM Henry Roger Lopez (24), Jimmy Dano (23), IM Oliver Dimakiling (21), Mohammad Sacar (20), Carl Sirex Sato (19), Irwin Aton (12) and NM Alex Lupian/Ruel Nuttal (12).
For Misamis Oriental-Cagayan de Oro's Finest scores saw Executives: NM Levi Mercado (26), Jaime Joshua Frias (25), Bryan Jose (21), Jonard Labadan/Jason Nabatlao (21), Abdul Halili Abdulah (18), Ralph Dalauta (17), Fr. Vic Arellano (13), Cleto Vasquez (13), Paul Omongos (12) and Resurrecion Gunayan (8). Its Regular Boards were Lenon Hart Salgados (25), Alfredo Rapanot (25), IM Richelleu Salcedo (22), Johnnel Balquin (19), Nazario Ubanan (18), FM Rustom Tolentino/Christian Aquino (18), Allan Cantojos/Romeo Canino (18), Alji Cantojos (15), Antonio Chavez (14) and Christian Arroyo (6).