As shopping remains a necessity during these days, many shoppers seek out safe spaces as they return to malls and stores. Staying safe by following health protocols becomes a top priority during essential shopping and errand runs.
One must be also always be quick-witted in maintaining safe distances, keeping a sanitizer hand, and refraining from having long chit-chats without a face mask on.
In this story, on-the-go moms Tash Costan and Ara Casas-Tumuran share tips and tricks that answer common questions about how to shop safely and where to get the best deals in SM Lanang Premier and SM City Davao. 
Shop in, drive thru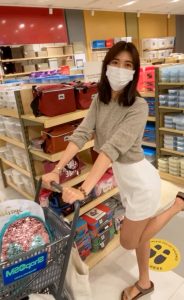 Tash Costan starts her swift and safe shopping by presenting her FM pass and submitting to health checks in the entrance.
"I really feel safe shopping here. I like how SM encourages us to follow directional floor signs to keep foot traffic organized as we shop from one store to another–no more bumping into each other!"
Tash loves to shop home and baby essentials in The SM Store. "They have a UV box that regularly sterilizes items touched by customers!" For the rest of her essentials, Tash relies on drive-thru and pick up services that help her manage her time during a visit. "Almost everything I need is in SM!"
Tash is delighted to be shopping in SM again—especially in The SM Store where there are So Many Markdowns throughout the month of July.
Call to deliver
A convenient way to shop is to buy essentials through The SM Store's Call to Deliver (09562106652 in SM City Davao/09178474356 in SM Lanang Premier) and SM's partner delivery service providers Errands Davao, Streetby, Kuya Juan Delivery, and Maligaya Taxi. 
A regular client of SM Store's Call to Deliver since May, Ara Casas-Tumuran shares that it is a convenient way to shop when a trip to the mall doesn't fit her busy mom schedule. She says that it has been her go-to delivery service especially for her baby's needs.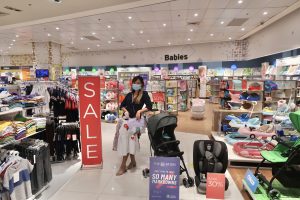 "This quarantine period, I choose to stay as much as possible in the house with my baby. Thankfully, there are now services where I can directly call and order for essentials. It is also fast and reliable too. SM Store is able to immediately deliver the same day when I ordered," Casas-Tumuran says. 
Safely shop and score discounted finds at SM City Davao and SM Lanang Premier's range of stores especially this
whole month of July.
SM also offers drive-thru and pickup for immediate pickup of goods and food favorites. Pickup points are located at the Roadway facing Quimpo Boulevard beside Jollibee or The Annex entrance fronting Starbucks in SM City Davao; and the Terminal Kiosk in the Jeepney Bay near Shake & Slurp or the Northwing driveway near Shakey's in SM Lanang Premier.
Be in the know through the malls' Viber community at http://bit.ly/DavaoTakeoutAndDeliveryAtSM. SM Supermalls also continue to innovate to keep the mall safe. That is SM's promise as everyone's safety matters.
SM Lanang Premier and SM City Davao are open from 10 AM to 7 PM from Sunday to Thursday; and 10 AM to 8 PM on Fridays and Saturdays. Both malls are open on Sundays for frontliners.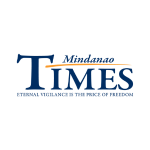 Advertiser posts are paid posts published by Mindanao Times. For inquiries, message us at our Facebook Page, www.facebook.com/MindanaoTimes.