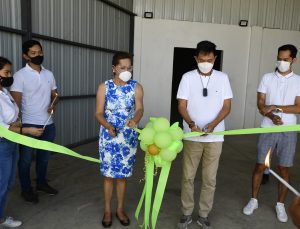 Southern Harvest, Inc., a banana chips processing company of Davao-based businessman Jam Abella and family held its factory blessing at the 64-hectare Anflo Industrial Estate in Panabo City. The factory will soon begin its operations on July 27, 2020 processing Southern Harvest banana chips for export to Australia, Russia, and China. 
 In spite of the current COVID situation, the PEZA-registered Anflo Industrial Estate welcomes and celebrates this positive development not only for Southern Harvest, Inc. but for Panabo City and the Davao Region as well. The factory's opening signifies a resilient and prosperous region despite the pandemic. Businesses are still busy and investors are still investing. 
 The Anflo Industrial Estate will also have several more of its locators that will be in operation in the next 2-3 months such as Connovate Philippines, PMR Pallet Ltd. Co., and FoamPack, Inc. 
 When the pandemic had reached levels of concern in the country and the region, AIE had quickly responded by implementing strict measures on site to prevent the spread of the virus. No instance of COVID-related incidents has occurred and AIE has steadily and carefully been able to do business during the quarantine period with the new measures implemented. To date, AIE has a total of 15 locators represented by 5 nationalities.
Southern Harvest, Inc. will start their operations with a daily production of 10 tons which will gradually rise to 75 tons daily once they are fully operational. Recruitment of more workers will be posted soon as the company targets 130 employees for their first factory.