IA/FT James Infiesto and the rest of Davao City's All Star chess line-up will only have one thing in mind when they face their Misamis Oriental/Cagayan de Oro counterparts this July 25 and 26, and that is winning.
Infiesto and the Davao City All Stars take on the MisOr/CDO Finest in their 6th edition match-up and their second online encounter dubbed as "The Rematch".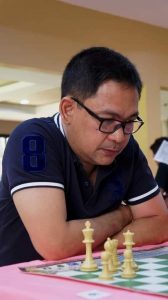 "It will be at 8 p.m. via Lichess.org, according to Infiesto who added that the Davao All Stars are yearning for revenge after losing next to their Executives and Regular Board counterparts.
"We prepared for this match, after that stunning loss," said Infiesto who referred to Davao City's setback next to MisOr/CDO, 354-398 point total on their first online encounter which featured 10 regular boards and 10 executives on a scheduled two-day competition.
Infiesto will again play for Davao City's All Star Executive line-up together with NM Jonathan Tan, AGM Lyndon Sombilon, Atty. Jong Guevarra, Engr. Aladino Diez, Engr. Napoleon Reccososa, Ariel Aton, Rhynan Arce, Jimzon Trangia and Reynaldo de Guzman. Its Regular Boards will consist IM Oliver Dimakiling, FM AJ Literatus, NM Alex Lupian, AGM Henry Roger Lopez, Carl Zirex Sato, Aglipay Oberio, Irwin Aton, John Ray Batucan, Anthony Mosqueda and Mohammad Sacar.
On the other hand, Infiesto will also receive a Philspada citation on the coming 26th So Kim Cheng Sports Awards this July 22.
His citation which will be given by the So Kim Cheng Sports Foundation and the Davao City Sports Council Incorporated will best fit his performance for topping the 3rd Chooks to Go National Executive Rapid Chess Championships last July 25 in Paranaque City and being named Best Senior awardee in the 2019 Pattaya Open Chess Championships as part of the RP team.
Joining Infiesto in this year's So Kim Cheng Sports Awards for chess who will also receive respective citations are Asian Junior Chess Championships fifth placer and ASEAN Age Group gold medalist John Marvin Miciano and Eastern Asia Youth Chess Ladies division 4th placer Samantha Umayan.