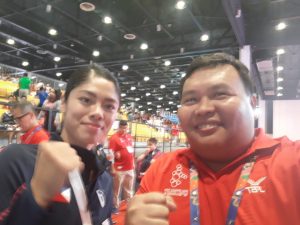 ASOSASYON ng mga Bowlers ng Pilipinas Incorporated (ABPI) Mindanao public relations officer Jerson Tamayo will receive the 2020 So Kim Cheng Sports Leadership Award while veteran Arnel Crudo is duckpin bowling's male outstanding athlete as the city's annual sports awards reels off on July 22.
Tamayo, who is also the Karate Pilipinas Sports Federation region XI secretary-general, will receive the SKC Sports Leadership award of the city's longest-running sports giving body. He will join Philippine Sports Commission (PSC) officer-in-charge and Commissioner Ramon Fernandez who will get the 2020 SKC Lifetime Achievement honor as the major awardees.
They will also be joined by karateka Robert Lawrence Avancena and arnis player Sherhalee Bulaso who are this year's co-athletes of the year and karate mentor Jeofrey Albarcio who bagged the coach of the year honors.
Fernandez will be honored as the 2020 SKC Lifetime Achievement honor after getting the SKC Sports Foundation Incorporated and Davao City Sports Council Incorporated nod as one of the noted sports leaders who made an impact on sports especially in the grassroots level as part of the Philippine Sports Commission.
On the other hand, Crudo will be this year's male athlete awardee for duckpin bowling after winning the ABPI National championship and noting a third place in the top average single category of the same tournament.
The awards night now on its 26th year, will be aired via zoom as to awarded by officials of the So Kim Cheng Sports Foundation, board members of the Davao City Sports Council and NSA-DCSCI members representatives.