The Securities and Exchange Commission – Davao Extension Office (SEC-DEO) has welcomed the move of the SEC to deny the motion to lift cease and desist order (CDO) of Crowd1 Asia Pacific, Inc. (Crowd1).
The extension office said on Friday that the July 2 decision of the Commission En Banc should put an end to the claims that Crowd1's investment activities were legitimate.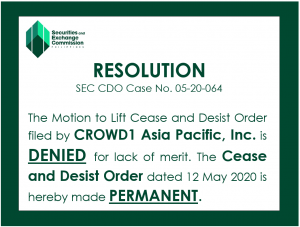 The SEC-DEO has been receiving reports that Crowd1, despite the implementation of the CDO, has continued with its illegal activities in some parts of Southern Mindanao.
In denying the motion, the Commission said the entity "does not find any cogent reason that warrants the setting aside of the CDO" dated May 12.
 Crowd1 claimed it was deprived "of the opportunity to present its side in a proper proceeding (on the CDO)."
The Enforcement and Investor Protection Department (EIPD) of the Commission "averred that the Commission can issue a CDO motu proprio, it being unnecessary that it results from a verified complaint from an aggrieved party."
Section 64 of the Securities Regulation Code (SRC) "categorically authorizes and empowers the Commission to issue a cease and desist order after a proper investigation sans a prior hearing to ensure prompt and adequate protection of the investing public from the fraudulent activity sought to be restrained. Additionally, "Crowd1 was given the opportunity to refute the allegations in the CDO and to present its defense in its Motion to Lift. Crowd1 cannot therefore argue that it was denied of due process." 
Crowd1 argued that its educational packages were allowed since the "objective is to educate the affiliates of the organization on possible wealth to be gained from marketing products and services."
The Commission, however, maintained that evidence presented by the EIPD showed that "Crowd1, its officers, agents and representatives were soliciting investments by enticing people to avail of its educational packages and recruit more investors to receive commissions".
It added that "people avail of the so-called educational packages for the purpose of securing for themselves the guaranteed high yields promised by Crowd1".
Crowd1's claim is also "belied by the receipts it issued to the investors which is under the name of a corporation which owns 40% of Crowd1."
Crowd1's investment scheme, therefore, constitutes the sale and offering of securities, which shall not be sold or offered for sale or distribution within the Philippines without a secondary license from the Commission as prescribed under Republic Act No. 8799, or The Securities Regulation Code (SRC).
As to Crowd1's allegation that it renders BPO services, the Commission pointed out that Crowd1's "marketing and sale of educational packages plus bonuses are clearly ultra vires for they are not included in the powers conferred to it by law and its Articles of Incorporation".
Records of the Commission show that the primary purpose for which Crowd1 is incorporated is to engage in business process outsourcing services. "Performing ultra vires acts and making it appear to the public that it can carry out investment-taking activities in the guise of selling educational packages constitute serious misrepresentation on what it can do or is doing to the prejudice and damage of the public". SEC-DEO PR