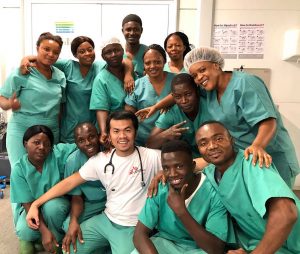 In year 2013, Jerwin Capuras graduated from the University of Mindanao in Davao City with a degree of Bachelor of Science in Nursing. He received a full college scholarship grant from Minority Care International, a Texas-based organization with office in Davao, giving scholarships to young deserving minority students. He was fifteen years old when he got to know about Minority Care International (MCI) and their activities in Davao He met the MCI President, Aland Mizell, who saw his potentials as a student while he started to join various youth and outreach activities of the organization; and became a student of life of MCI. Jerwin says: "MCI, more than giving me a full college scholarship, has molded and honed me to be what I am today".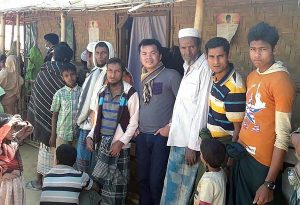 "There was no specific person or following the footsteps of a certain member of the family or relative in deciding to become a nurse, but rather it was a gradual realization that becoming a nurse would be a great life path for me. I have been fortunate enough to be exposed and engaged in many volunteering activities in the Southern Philippines while I was young, experiences which stimulated and inspired me to discover further my innate desire to help people and care for them in times of need. I saw that to become a nurse was one of the professions that would give me the avenue to extend this passion", Jerwin relates.
"During my last two years in nursing school, Typhoon Pablo battered Compostela Valley Province, my hometown. I happened to be there when the typhoon landed. It was so strong, we thought it was the end of our world. Our house was unroofed and we were trapped for a few days with no aid from outside as roads were impassable. Days later, many local groups arrived and I had the opportunity of joining various relief efforts. Instead of becoming a victim, I chose to become a resource. That experience inspired me a lot. I knew I wanted to become someone where my skills could be used to help the vulnerable ones.
In early 2014, fresh from finishing nursing school and getting my license to practice the profession from the nursing board, I went on to work at the biggest state hospital in Southern Philippines (SPMC) in Davao City, to be honed and molded as a novice nurse, getting all the learnings and experiences on the job. In 2016, I got a big opportunity of being accepted to work on Mercy Ships in Benin, West Africa. Mercy Ships is an international organization that operates the largest charity hospital ship in the world, providing free health care to countries where medical care is nearly non-existent. I went to Benin, a tiny country off the coast of West Africa, for six months. It was a very bold decision. I knew this would open more doors for me to become a fully- equipped professional humanitarian worker. At a young age of 24, I made a decision that is uncommon to most young Filipinos, especially for a Filipino health worker. The Philippines is the biggest exporter of nurses among the first world countries, but seldom do we see a Filipino who chooses medical humanitarian work, going to places where people opt not to go, and taking the path less travelled by many. I discovered so much more of myself and my passion during my short term work in Benin."
"After my time in Benin, I received a job opportunity to work in Bangladesh in 2017 with Samaritan's Purse, an international relief organization, during the height of the Rohingya refugees' exodus. In 2017, a harsh and deadly crackdown on Rohingya Muslims by Myanmar's military which sent hundreds of thousands of Rohingyas fleeing across the border into Bangladesh. A million of them are now cramped on a hilly refugee camp in southern Bangladesh which is now the biggest refugee camp in the world. I stayed in Bangladesh until end of 2018, caring for the Rohingyas who had severe traumatic body injuries and also responded to the outbreak of Diphtheria and threat of Cholera in the refugee camp. I was very grateful living and doing the very job and life I wanted to do."
"Before ending my time in Bangladesh, I got to know about Medecins Sans Frontieres (MSF)/Doctors Without Borders, which runs a big project in the refugee camp. Although I have known about MSF for a long time, I became more interested in them when I was in Bangladesh. I knew that for anyone who wanted to get involved in medical humanitarian work, joining MSF is on top of the bucket list.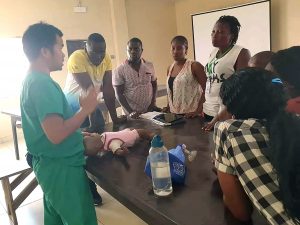 So prior to ending my one- year stint in Bangladesh, before going back to the Philippines, I decided to submit my resume to MSF, confident that my experiences, skills, knowledge and passion would land me a role in this esteemed organization. Before 2018 ended, I got a call from a recruitment officer of MSF, informing me that I got shortlisted. I went on with the usual and rigid MSF recruitment process and was officially welcomed to the MSF pool in December 2018. In February 2019 I went to the MSF headquarters in Belgium for my onboarding. I boarded a plane bound for South Sudan to begin my first mission with MSF. Joining MSF has further ignited my passion to serve. The work allows me to be part of something bigger than myself. I cannot see myself being in another field not related to this nature of work".
Jerwin sees the risks he takes in his job: "Humanitarian work, such as with MSF, is not exempted from any risks. I think we always face various hazards while in the field. There are risks that naturally come with the job. During my time in South Sudan, we faced various risks such as indiscriminate attacks against aid workers, threats from continuous clashes with government forces and rebels and even risks caused by harsh weather and living conditions. South Sudan remains one of the most dangerous places in the world to be an aid worker. In eastern Sierra Leone, where I am now, risks may come from contracting different diseases such as malaria, blood-borne diseases, Lassa Fever and the risk is very high. Lassa Fever is a viral haemorraghic disease endemic to eastern Sierra Leone where humans get infected with the virus through exposure to food or household items with urine or feces of infected rats, the carrier of the virus. Lassa Fever belongs to the same hemorraghic fever family as Ebola. Overall, despite the known risk that goes with the job, seeing the huge impact the work does to the most vulnerable and forgotten people in the world is the main driving force that keeps me going."
Jerwin Capuras, 28, is currently with Medecins Sans Frontieres (MSF), one of the biggest international medical humanitarian organizations best known for its project in conflict zones and in countries affected by epidemics, disasters and exclusion from healthcare.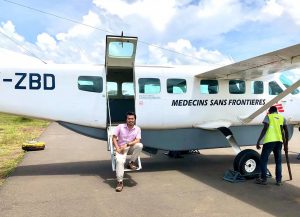 He was deployed in war-torn South Sudan with a team running a Primary Health Care facility for the Sudanese population fleeing the war. Presently he is in Kenema, Sierra Leone, West Africa helping to run a secondary hospital to combat the high child mortality rate in the country and to respond to the threat of a viral hemorrhagic fever outbreak.
Jerwin was born and grew up in Compostela Valley Province, now Davao de Oro. His father, Eldeweno Capuras is a Mandaya, his mother, Francisca, a Waray, the reason he does not consider himself a 100% Lumad. The only dialect he learned is Visayan, and calls himself "Bisdak". Photos courtesy of Jerwin Capuras