Mayor Sara Duterte has formed a steering body as representative of the city in the Metropolitan Davao Development Initiatives, an initiative aimed at developing the coastal cities and towns along the Davao Gulf.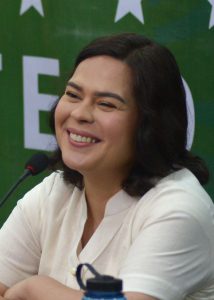 The newly-formed Davao City Coordinating Committee  will work closely with the Metropolitan Davao Development Coordinating Committee (MDDCC) in overseeing the implementation of plans and programs of the city government including land use and other initiatives that are consistent with regional and national development objectives and priorities. 
Based on the city government, the body is tasked to prepare priority programs and projects, identify sources of funding for these initiatives and package them for funding.
It will also ensure the proper monitoring of projects and programs and recommend solutions should there be problems of implementation.  
The Regional Development Council (RDC) XI created the MDDCC as a transitory structure for inter-LGU cooperation in crafting plans, investment programs, facilitate project implementation and monitoring Metro Davao initiatives.
Each LGU within the Metro Davao needs to form a steering group to coordinate with the MDDCC.
Aside from the city, members of the Metro Davao initiatives are the cities of Panabo, Tagum, Sama and the town of Carmen in Davao del Norte, and Digos City, and the Municipality of Sta. Cruz in Davao del Sur. 
 The mayor sits as chair of the committee, Vice Mayor Sebastian Duterte as co-chair and members include City Administrator Zuleika Lopez, Legal Officer Osmundo Villanueva, Jr., City Planning and Development Coordinator Ivan Cortez, City Engineer's Office officer in charge Joseph Dominic Felizarta, Architect Office acting head Clyde Eric Verga, City Environment and Natural Resources Office acting chief Marivic Reyes, City Agriculturist Leo Brian Leuterio, and City Traffic and Transport Management Office acting chief Dionisio Abude. 
Other members are Davao City Police Office Kirby John Kraft, Department of Public Works and Highways-District Engineering Office acting head Richard Ragasa, Davao City Schools Division Superintendent Reynaldo Guillena, and John Carlo Tria, president of the Davao City Chamber of Commerce and Industry.