According to its website, the pyroclave is an ISO 9001 facility designed to destroy medical waste, without pollutants, unlike the traditional incinerators. The process is also water-free, preventing the waste outcome from leaching downward to groundwater.
James Banados, the operations manager for Mindanao, said that during the pandemic, they have been collecting two tons of waste from the SPMC alone during the bi-weekly retrieval and another ton from the city's COVID-19 centers. He said SPMC is a new client of the company. The city's other hospitals are also their clients.
According to Mayor Duterte, Davao City has prepared quarantine facilities for confirmed patients with mild or moderate symptoms who do not need emergency medical intervention. They also have isolation centers used by suspected cases awaiting confirmatory results from the swabbing samples.
"If we count everything, we have 544 beds and 11 facilities," she reveals.
RAD collects waste from the facilities currently used.
All collected wastes are sanitized and disinfected before they are loaded to the insulated van. The collectors all wear full PPE covering, similar to Hazmat suits.
The collectors are also regularly monitored using the rapid test kits and body temperature scanners, Banados said.
Before the wastes are stuffed into the pyroclave, they are first treated with glutaraldehyde, a highly toxic disinfectant used to sanitize heat-sensitive equipment.
The pyroclave is a proprietary technology that utilizes a process called pyrolysis. The company uses water as the catalyst to produce more heat using less fuel (LPG). The higher water temperature enables total destruction of infectious and solid waste without the toxic by-products.
For now, Banados said, they are still nowhere near the capacity of their machine but if in the event that PPE waste volume multiplies, they can always ramp up their operation through multiple personnel shifts.
He said this would be easy since each treatment cycle for medical waste is finished in 30 minutes.
"As part of our contract with hospitals and the city government, we are not allowed to dump medical waste at the landfill," he said.
The city's sanitary landfill is located in Barangay New Carmen, about 20 kilometers from the city's central business district.
Shredded, treated waste
Banados said they have a storage cell near the sanitary landfill in Barangay New Carmen where all the shredded and treated medical wastes are deposited. Although RA 6969 classifies treated hazardous waste as municipal waste, the Davao City government directed RAD in 2016 to establish a dedicated facility for its own treated wastes so they do not end up at the landfill.
The company is preparing a site in San Isidro, Bunawan District, about 24 kilometers north of Davao City Hall, to convert into a private landfill. He said they are already complying with the requirements for the environmental compliance certificate from the Environmental Management Bureau of the Department of Environment and Natural Resources.
"Our storage cell is near capacity but if our sanitary landfill is not yet completed by then, we have a contractor also in Manila who can take our waste outcome," he said.
All roads lead to the landfill
The City Environment and Natural Resources Office (CENRO), which is tasked to collect garbage from the city's 182 barangays and manage the sanitary landfill, admits that the discarded PPEs from households are becoming a concern.
Lakandiwa Orcullo, Engineer 1 at CENRO's Environmental Waste Division, explains that household special wastes, which includes discarded face masks and face shields, are outside their purview as directed by Republic Act 6969 or the "Toxic Substances and Hazardous and Nuclear Wastes Control Act of 1990."
While the law assigns to the city and municipality the responsibility of collecting special waste, there is a condition for this to take place, as affirmed by Davao City Ordinance 0361-10, or the "Mandatory Segregation of the Solid Waste."
The ordinance mandates that special wastes should be properly segregated at source. Failure to do so warrants a fine of a minimum of 300 pesos (6 USD) to a maximum of 5,000 pesos (100 USD) or six months imprisonment.
He asserts that it is impossible for the garbage collectors to sort the PPEs from regular wastes at the garbage collection points.
Ultimately, the trucks empty all their contents at the city's sanitary landfill.
650 to 900 tons a day
According to the Waste Analysis and Characterization Study (WACS), Davao City generates from 650 to 900 tons of garbage daily, with each person estimated to contribute 500 grams of garbage each day. But half of the total volume is considered biodegradable, which could have been composted as fertilizer at home. Meanwhile, 18% is recyclable and only two percent is classified as special waste.
About 80% of the wastes come from households while 20% are from commercial establishments.
"After the lockdown, we are down to 614 tons per day because of the number of establishments that closed down. But we have not conducted a WACS yet (during COVID) to determine if the volume of special waste has increased," he says.
In fact, during the heightened lockdown under the enhanced community quarantine from April 4 to May 15, the number of garbage trucks moving around the city declined from an average of 110 units per day to 90.
According to Engr. Daven de Dios, assistant officer in charge of the Davao City Sanitary Landfill in Barangay New Carmen, there was a steady decline in the volume of garbage collected by the city during the lockdown.
From a high of 684.40 tons per day in January this year, it was down to 582.75 in March (the lockdown started March 15), 458.48 tons in April when the city was placed under Enhanced Community Quarantine, then slightly increased to 485.51 tons in May. The city shifted to General Community Quarantine effective May 16.
TOMORROW: Special Waste
(Joel Escovilla for MindaNews. Escovilla is Associate Editor of Mindanao Times in Davao City. The production of this special report was made possible with support from Internews' Earth Journalism Network)
A common sight these days: used surgical masks thrown into the bin of households in Davao City. Discarded PPEs (Personal Protective Equipment) in hospitals are collected by a private contractor that uses pyroclave. MindaNews photo by JOEL ESCOVILLA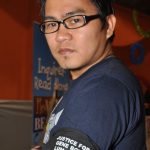 Associate Editor at Mindanao Times