Davao's young and determined chef Darence Patrick Co was working like a dog (that line from the Beatles' popular song) for many a hard days since March 15, 2020, owing to the COVID 19 pandemic which quickly spread mercilessly throughout the country. The talented and truly hardworking master of the kitchens of Fat Cow and Asian Cow, who has become not only Davao City's celebrity chef but a certified young philanthropist as well, defines his brand of altruism, "I truly believe in the saying that you use your voice for kindness, your ears for compassion, your hands for charity, your mind for truth, and your heart for love."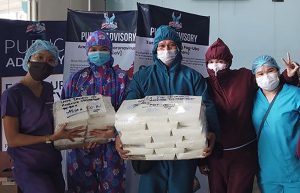 The 24-year-old chef (born in Davao City on December 6, 1995) has that steely assertion of faith in himself being a typical millennial of his generation. And his latest accomplishment is completing 100 days of service for the benefit of Davao City's admirable frontliners. Mayor Sara Duterte-Carpio graciously wrote chef Patrick an official letter dated June 23, 2020, stating, "The City Government of Davao conveys its sincerest gratitude to your organization for your donations in the fight against the COVID virus malady. Your contributions inspire our frontliners to continue the sacrifices that they make to flatten the curve and protect more people from contracting the disease…With the generosity of kind-hearted individuals and benevolent organizations such as yours, we know that we will one day see an end to the spread of COVID 19 in Davao City. Daghang salamat and please stay safe."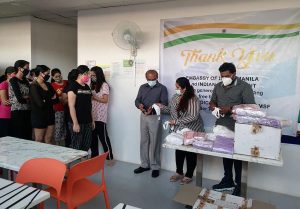 It was on the second week of June when the exhausted-looking chef Patrick, whom we get to call each other toto owing to copious Ilonggo blood flowing in our throbbing veins, informed me with such excitement that his target 100 days of service would be finally completed by June 23. "My Fat Cow and Asian Cow staff and myself started distributing 120 food packs to help our frontliners at the Southern Philippines Medical Center (SPMC) last March 15. The following days included distribution of food packs to Davao City Policemen manning checkpoints, among other frontliners. I worked with 24 staff members of my restaurants. I am truly happy that instead of closing my restaurants like so many did; I was still able to provide my restaurant employees the opportunity to work despite and in spite of the COVID 19 pandemic which tragically impaired the hospitality industry of the country. Opening my restaurants for a purpose welcomed the opportunity to give back at a time when so little could still mean a lot especially to our brave frontliners. And we didn't forget our loyal patrons as well. Through our website, www.thefatcowgroup.com, a platform was made where people can still order and enjoy our food in the comfort and convenience of their home. By our 100th day of service, we managed to give out about 120,000 food packs to the PNP, AFP, PAF, HPG, MPG, SPMC, House of Hope, Davao Doctors Hospital, Brokenshire Hospital, San Pedro Hospital, and the Davao City Hall Operations Center for COVID 19. I am truly grateful to people like Cong. Paolo Z. Duterte, Senator Ronald de la Rosa, the Davao City Government, NCCC Cares, AOF Foundation, among others still."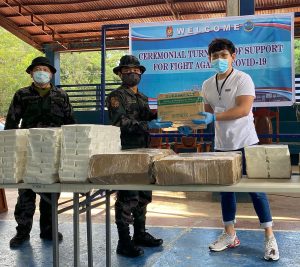 "This pandemic has brought so many changes in our lives. I, for one, have to drastically shift my operations. At the same time, this unfortunate dilemma opened my eyes and made me realize how blessed I am to have a team that is willing to weather this storm with me in the spirit of walang iwanan. I also got to see people who are focused on positive opportunities, new lessons to learn, and what they could do to help in the community…For now, my staff and myself are happy to be back to serve our much missed dining patrons of Fat Cow and Asian Cow. Let us continue innovating and making this world a better place to live in, eat at, and love with all our heart. Let us all join hands, cooperate with what is required of us, and make this present condition a better new normal," professed chef Darence Patrick Co.
The young chef is also preparing for a tv program called Farm to Fork series which was already shot in the urban garden of Agriya, Panabo City, Davao del Norte. "The series takes off from the Farm to Community program wherein fresh farm products from the Agriya Urban Farm and the small scale farmers found all over Davao del Norte are brought to commercial markets thus providing more affordable and fresh alternative to consumers."
Expressing my gratitude and admiration for your altruism, chef Darence Patrick Co. God bless you and your staff.