The three kilometer hike – about an hour of ascending and descending along a trail within the boondocks of Lower Sibulan in the municipality of Sta Cruz, Davao del Sur, afforded us a peek into what was then one of the municipality's best kept secrets.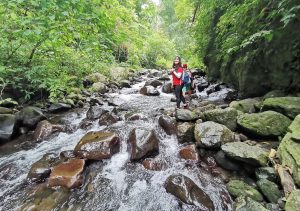 Tumari Falls is a 50 foot cascade emanating from Tumari Creek. For now, day hikes are allowed but not overnight camping yet until appropriate guidelines are crafted with the Bagobo-Tagabawa tribe as it is part of their ancestral domain.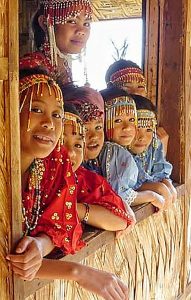 With a controlled number of tourists allowed, Tumari Falls is one of the sites that's fit for Sta Cruz to showcase for tourism in the new normal. Last May, the municipality has already prepared a Tourism Recovery Plan that will focus on local and, eventually, domestic tourism.
"As soon as we have complied with the necessary requirements in the new normal, now being laid out by the Department of Tourism, we will launch the Balik Sta. Cruz Campaign," said Julius R. Paner, the municipality's tourism officer.
The campaign endeavors to encourage local tourists to revisit Sta. Cruz, rediscover its attractions and eventually help rebuild its tourism communities.
Being home to Mt Apo, Tibolo Bagobo Cultural Village, Mt. Loay, Passig Islet and numerous waterfalls (Tacub Laya Falls, Dumagok Falls, Sig'gawa Kasisi Falls, Tudaya Falls, Langan Falls, Balusong Falls), Sta Cruz remains to be an ecotourism destination.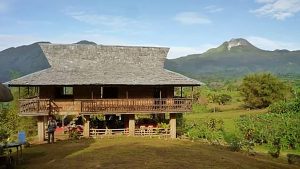 According to Paner, they intend to continue positioning Sta Cruz for ecotourism, focusing specific on adventure and cultural products in the new normal with "Spectacular Sta. Cruz" still their tag line. Efforts will also be geared towards new product development, such as the Tagabuli Bay Cruise, which they hope to present to the public next year.
"I believe, we have an edge in the new normal scenario. Destinations in the countryside will be more attractive especially for day tour visitors and backpackers," he explained.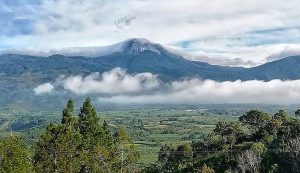 With regards to Mt Apo, Paner said that the community quarantine "gave enough time for the mountain to rest, recover and somehow heal" as no human activities were undertaken during the period.
The Department of Environment and Natural Resources has also tapped Paner to assist them in their Biodiversity Monitoring System efforts particularly on Avian Identification in the national park. Moreover, the Protected Area Management Board has passed a resolution requesting local government units to augment personnel deployed as Forest Protection Officers to ensure better implementation of environmental law enforcement programs.
Sta Cruz recorded total of 114,000 travelers in 2019, a 4.7% increase from the 2018 data. Of the figure, 40% are locals (from Sta. Cruz only), 58% are domestic tourists whe the remaining 2% belongs to foreign tourists.