If there's one trend that hit it big during the quarantine period, it is the barter communities on Facebook. This mania allowed many people to discard unused items – some in mint condition, others, surplus and "pre-loved" – and trade them with commodities that they deem more vital especially in the midst of a pandemic.
This sparked an innovative and charitable spin, courtesy of Angeli Therese Estrada Angliongto, a businesswoman and an active member of JCI Davaoeña Daba-daba.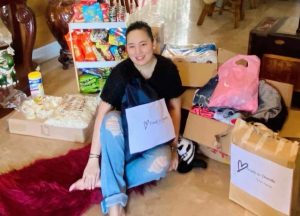 "My concern for my fellow Dabawenyos, especially the less privileged, whose livelihood was halted by the pandemic, prompted me to do something immediately about their plight," she said.
Igniting her cause
The 34 year old Ateneo de Davao University Bachelor of Science in Marketing graduate immediately hit the road and established a philanthropic movement called Trade to Donate, backed by a Facebook page and group, last May 29. Leading by example, she was first to post a bulk of her personal belongings in exchange for grocery items, toiletries, medicine, hygiene kits, and even cat and dog food.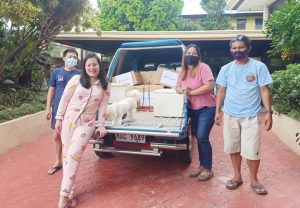 It took a few days for Trade to Donate to pick up. Angliongto thought that she "didn't have enough friends interested" and "not everyone seems to be keen" on giving up their personal effects. Unbeknownst to her, her family and friends were actually in the process then of gathering various valuable items that they wanted to contribute for her cause.
"Slowly but surely, initial donations started to pour in, including biscuits from Mr. Amado So of Rebisco, books from Celine del Monte, fresh seafood from my cousin Celine Go, boxes of milk from Luna Acosta, medicine from Maricon Quilaneta and family, old clothes and blankets from Leah Aquino and Miggy Herrera, essential items from friends Blanche Claito and Dahlia Canas, and even strangers sent their donations," she excitedly shared.
Proceeds of the traded donations are given directly to various beneficiaries that Angliongto have identified, including House of Hope, Pet Avenue, Balay Dangupanan, and Co Su Gian Center for the Elderly.
"We were also able to help a number of families from local indigenous groups, calamity survivors, frontliners, backliners, senior citizens and select people who are greatly affected by this crisis," she added.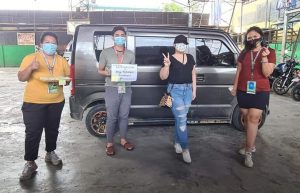 Inspired heart
Her zest for public service could stem from growing up and seeing her father, highly respected businessman, former national president of JCI Philippines, and Datu Bago awardee Sebastian Lim Angliongto, who dedicated much of his life for civic engagement. The apple doesn't fall far from the tree indeed.
Being a member of a socio-civic organization have also helped enkindle the young Dabawenya's eagerness to serve.
"I want to inspire our beneficiaries that there is hope and help is coming from many people with good hearts," she remarked.
In just barely a month, hundreds of individuals have received aide from Angliongto's advocacy. Many of them have expressed their gratitude on social media.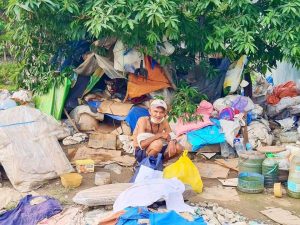 With her bouyant personality and sheer optimism, Angliongto forges ahead to set more examples on how Donate to Trade continue to flourish on social media.
"I would like to believe that this humble civic work that I'm doing has and will embolden more people to help," she said.
American author Neal Donald Walsh once said: "Be a gift to everyone who enters your life, and to everyone whose life you enter." At a young age, Angliongto seemed to have learned not just joy of giving but also in inspiring others to do the same.