"To convey beauty in art that brings HOPE and FAITH in God. To inspire and encourage love for our country and pride in our roots as Filipinos. To show colors, hues and shapes that convey joy, gladness, patience, vibrancy and life."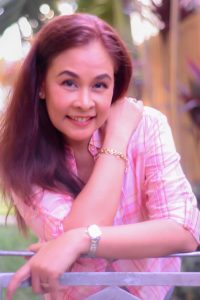 That is the guiding principle of Ms. Carina Alejandrino-Rayo in creating her watercolor art pieces.
A native of Lupon, Davao Oriental. She is now more known in the art community and her friends as Ms Jinky Rayo.
"I was never inclined to follow fads or ongoing genres that prevail in the art market, I am more than the spur of the moment kind of artist, I derive inspiration from what I see and feel around me, from nature, people or objects that arouses interest and passion in my heart, it can be the folding of the stem of a flower, or an interesting floral arrangement, but what is common in all of my works are objects, symbols or ornamentation that reflects my Filipino roots."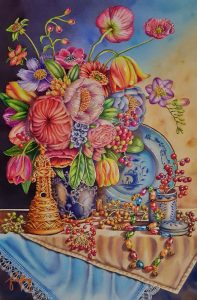 "It is my desire to present our own culture through watercolor medium to the world. During my several trips abroad while attending watercolor art convention as our country's representative, many of my fellow artist in the arena of watercolor mediums around the world are so filled with national pride through the subjects portrayed in their art. What I saw in their eyes and art stirred this deep desire in me to also show the beauty of our culture as much as my passion in watercolor. The symbols and representations itself in its simplicity is indeed beautiful and worthy to be portrayed in an art medium that is exceptionally beautiful in its complexity." – Jinky Rayo
JINKY RAYO is a self-taught artist, born in Mati, Davao Oriental, a product of Lupon Central Elementary School. She is now a resident of Biñan Laguna, married to Art Rayo with two sons Carlo and Paulo.
As an artist, she got her initial training in art from her high school drafting electives subjects in University of Southeastern Philippines, Obrero, Davao City, then honed her watercolor painting techniques doing architectural projects while studying BS Architecture in University of Mindanao, Davao City. She started painting seriously and solely in watercolor in year 2012. Since then, she has already participated in numerous exhibits in the international and local art scene.
She was always enamored in watercolor art even during her younger years. "Watercolor art is so surreal, it has this ethereal dreamy quality in each strokes and its transparent pigment, the fact that it is considered the most difficult art medium to learn and master add more to its mystery and attractiveness."
She is currently the president of the Philippine Chapter of the International Watercolor Society which was founded in April 2014 and Philippine Guild of Watercolorists which is founded in 2017. The aim was not just to help propagate the practice of watercolor, but also to have a chance to share with the rest of the world the exceptional talents of Filipinos in watercolor painting.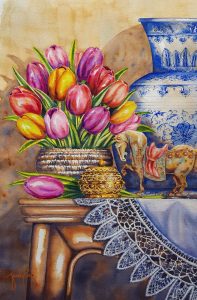 Being part of the PGW/IWSP was also a great way for developing good diplomatic relations with world art communities as well as a great venue for promoting the cultural heritage and beauty of the Philippines.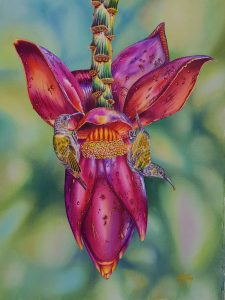 Under her leadership, her art group PGW/IWSP already held 2 National Watercolor Exhibitions in GSIS Museo ng Sining in Pasay City year 2018 and 2019, consecutively they held also 3 national watercolor On-The-Spot art competition in the same venue. Her group has partnered with GSIS Museo ng Sining to help in the promotion of watercolor art awareness and education by holding monthly art workshops, they also held tutorials by partnering with various LGU and community support groups as well.
"Watercolor art is actually the oldest art medium in history, many art or sketches done by the Neanderthal men in ancient cave walls are done with water based pigment derived from leaves, rocks or minerals, old archeological maps where done in watercolor and yet these are still existent and perfectly preserved in museums, so the idea that watercolor is not a durable and enduring art medium is wholly incorrect but instead the opposite" according to her.
The Philippine art community right now is more appreciative of the amazing beauty of watercolor art, as a result of the group's untiring effort in promoting the medium and the growing interest of many hobbyist or beginner artist who has discovered the uniqueness of the medium and its difficult yet admirable qualities. Slowly the misinformed notions about the medium are replaced with deep admiration and respect not just for the medium but for the artists who were relentless and persevering in maintaining the integrity of the watercolor art practice.
To know more about Jinky Rayo and her works, visit her facebook page Jinky Rayo Watercolor Artist.